by John J. "Ski" Sygielski, MBA, Ed.D. and Linnie S. Carter, Ph.D., APR
HACC, Central Pennsylvania's Community College
Harrisburg, PA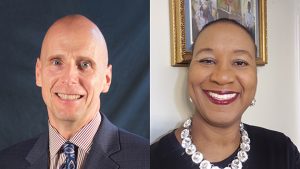 If you review the position descriptions for community college presidents, most of them include fundraising as a required job duty. Some candidates readily embrace this job duty, some are lukewarm about it and others are terrified by the requirement.
No matter whether you are a seasoned president, a relatively new president or a prospective president, for the most part, the expectations are the same.
Following are the top 10 fundraising-related expectations of community college presidents:
1- Embrace your role as the chief fundraiser. You are the chief development officer – not your vice president. You will set the tone for your fundraising program in a way that no one else can. Use your influence wisely.
2- Hire an exceptional advancement vice president. While your entire Cabinet should be comprised of high-performers, this is especially true of your advancement vice president.
3- Contribute first and generously. If you have a Day of Giving, for example, the first gift should come from you. Before you ask others to give, do so first. Your annual contribution should be a reflection of your salary. Payroll deduction is the ideal way to contribute – you can "set it and forget it."
4- Sign up for fundraising training. There is no shame in admitting that you need to enhance your fundraising skills. Do not allow pride to get in the way. If you need help, seek it.
5- Learn the fundraising process. The five steps are (1) identify donors and prospects, (2) research donors and prospects, (3) cultivate donors and prospects, (4) solicit donors and prospects and (5) steward donors and prospects. Learn the process, follow it and master it.
6- Use fundraising tools. There are many fundraising tools at your disposal, including checklists (use a checklist to prepare for donor meetings), donor database (get enough access to review your major donors' contact information), call reports (submit reports after all donor interactions) and social media (focus on Facebook, Instagram and Twitter).
7- Practice making the ask. Before each donor meeting, practice soliciting a gift. It's true – practice makes perfect.
8- Have a donor portfolio. Your portfolio should be comprised of your community's top donors. At our college, top donors are those with the capacity to contribute at least five figures.
9- Learn to speak donors' languages. Listen to learn what motivates your donors to give, what projects are important to them and what their core values are. You will have greater success when cultivating, soliciting and stewarding contributions.
10- Attend foundation board meetings. Attending and actively engaging in these meetings should be as important to you as attending your college board of trustees meetings.
Current and future presidents, remember to be authentic, consider these ideas to be a "buffet," try new strategies, refrain from continuing failed and declining projects, stay fresh and see what other presidents are doing.
You and, most importantly, your stakeholders will benefit from these expectations.
John J. "Ski" Sygielski, MBA, Ed.D. is the president and CEO of HACC, Central Pennsylvania's Community College.
Linnie S. Carter, Ph.D., APR is the vice president of college advancement at HACC, Central Pennsylvania's Community College, and executive director of the HACC Foundation.