by Jennifer Pue
Palo Alto College
San Antonio, Texas
Each year, our nation comes together in September to celebrate the histories, cultures, and contributions of American citizens whose ancestors came from Spain, Mexico, the Caribbean, and Central and South America. Palo Alto College (PAC) is known for hosting its annual Hispanic Heritage Month to honor the indigenous heritages of South Texas. This year's event includes a series of free virtual events open to the public, including panel discussions, author readings, artist visits, and more. With 85% of Palo Alto College students self-identifying as part of an ethnic or racial minority group, these discussions encourage our community to embrace diverse perspectives.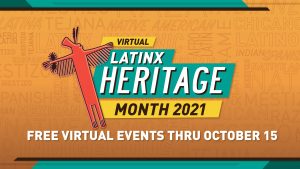 The month-long series kicked off with a keynote address from Cherríe Moraga, an internationally recognized poet, essayist and playwright. PAC honored Diez y Seis de Septiembre and Hispanic Serving Institutions Week with a panel/plática discussing the current political movement challenging the use of Critical Race Theory in our K-12 classrooms. The panel explained the impact of this recent legislation on teachers and students.
The second keynote address came from Lalo Alcaraz, an award-winning visual/media artist, and television/film writer. Attendees learned about Alcaraz's Chicano art and his work as a cultural consultant on the Oscar-winning Day of the Dead-themed Pixar movie Coco. On National Voter Registration Day, the event focused on Latina civic engagement through public service. Panelists discussed strategies and personal experiences related to voting mobilization, community organizing, and public service.
As the celebration continues, PAC will highlight the work and successes of Latinas by hosting a "Latinas in STEM" panel. National Poetry Day will feature Lupe Mendez, a writer, educator, activist, and the 2022 Texas Poet Laureate. Finally, PAC will close the celebration on Indigenous Peoples' Day in honor of the heritage of our indigenous ancestors.
As we take time to learn about our nation's history, it's important to recognize the achievements and remember the challenges of our ancestors. By doing so, we'll all gain a better understanding of our differences and backgrounds that ultimately make us one community. To learn more, visit alamo.edu/pac/heritage-month.
Jennifer Pue is the marketing and strategic communications manager at Palo Alto College in San Antonio, Texas.