Linnie S. Carter, Ph.D., APR and Amanda Griesser
HACC, Central Pennsylvania's Community College
Harrisburg, PA
At HACC, Central Pennsylvania's Community College, we make sure that students are at the forefront of everything we do, including our integrated marketing communication efforts. If you see something related to HACC – whether it's on our website, a print piece, in an email or on social media – the odds are very high that you are looking at a HACC student or successful graduate of our programs.
This seems obvious, right?
Surprisingly, there was a time in our college's recent history when we utilized stock photography in advertising, digital resources and print materials. This strategy worked for a while, and maybe nobody was the wiser. On one occasion, though, we learned that another higher education institution was using the same stock photo in their advertising. How embarrassing!
As we know, doing the easiest thing doesn't mean it's the right thing.
This strategy quickly went out the window when HACC's Office of College Advancement was formed in 2012. We transformed the entire structure and philosophy of the division, and with that came a lot of changes with our marketing and communication decisions.
Now, almost every one of our integrated marketing communication projects includes photos of students who were or are currently enrolled at HACC.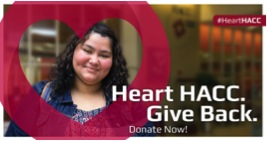 We celebrate the diversity of our students, who hail from all around our country and the world. Including their smiling faces in brochures, postcards, billboards, social media ads and commercials is not only our responsibility, it is a joy. The process becomes even more enjoyable when we discover how thrilled students are to participate. More often than not, asking students to represent their college gives them an immense feeling of pride.
In addition to including student photos and stories in our integrated marketing communication materials, we regularly collect feedback from our student body on whether or not the work we are doing is effective. We've found that hosting intimate focus groups with no more than 12 students at a time is a great way to interact with and listen to our students. We want to know if the messages resonate with them, if the images are appealing and if they can clearly see the college's "personality" in our work. If the students are not impressed, we go back to the drawing board.
Students are the reason that we come to work each day. They are the reason why we choose higher education as our vocation. Moreover, they are powerful resources that should never be overlooked. Their stories are captivating, and if we don't feel proud enough to feature them in our marketing, we've lost sight of our mission.
Linnie S. Carter, Ph.D., APR, is vice president of college advancement at HACC, Central Pennsylvania's Community College, and executive director of the HACC Foundation.  
Amanda Griesser is the integrated marketing communications coordinator for project management at HACC.