by Linnie S. Carter, Ph.D., APR and Megan Hoose
HACC, Central Pennsylvania's Community College
Harrisburg, PA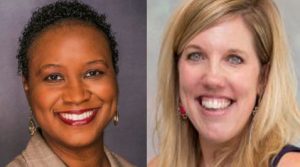 Yes, you read the title correctly! How do you KISS?
Keeping it short, sweetheart (KISS), in communication is the key to grabbing and keeping your target audience's attention. Whether it's a brochure, flyer or postcard, individuals want to be able to skim information to understand what they're to do and learn how the information will benefit them.
The Office of College Advancement (OCA) at HACC, Central Pennsylvania's Community College, has helped college employees cut down on content in marketing materials to help drive the audience to take action.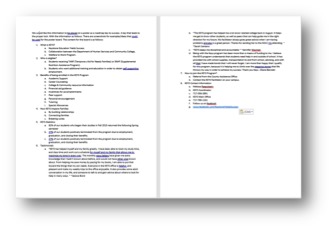 For example, a two-page Word document of content (above) was submitted to OCA to create a poster. OCA worked with the HACC employee to identify the key points that should be included to keep the content short and simple:
1.  What is the program (in one sentence or less)?
2.  Who is eligible for the program?
3.  What are the benefits of enrolling?
4.  What do you want the reader to do?
As a result, the final product (below) was developed, and the answers to these questions were presented in a clean, succinct way.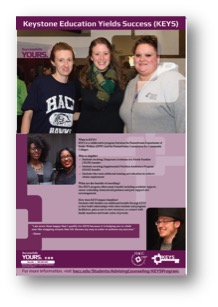 Additionally, we take pride in asking our students what they think. Before we print thousands of brochures, we want to know if our target audiences will, in fact, read the material.
Does the piece have too much content, not enough content or just the right amount? Does it include information that is or isn't of interest to you? Based on the responses of students, we'll go back to the piece and adjust it until it meets the need(s) of our target audiences.
So, what are our KISS tips?
1. Make sure your content and images answer these questions:
a. What do I want the reader to do?
b. What is the program, project or product?
c. Who should care about this information?
d. What are the benefits of this program, product or project?
2. Use bullet points to help limit the content and make the material more appealing to the eye.
3. Drive your reader to a website, video or online link to learn more. Remember, you can update online information more frequently than a printed piece.
4. Test your material with your target audience. Don't guess what the target audience thinks; instead, let your target audience tell you if it is too much content.
In today's world everyone is moving at a fast pace, and most don't take the time to stop and read every detail. Adjust your materials to make them stop but also read the short, simple text.
Linnie S. Carter, Ph.D., APR, is vice president of college advancement at HACC, Central Pennsylvania's Community College, and executive director of the HACC Foundation. 
Megan Hoose is integrated marketing communications coordinator for student recruitment at HACC, Central Pennsylvania's Community College.