by Michele Kersten-Hart
Oakland Community College
Bloomfield Hills, WI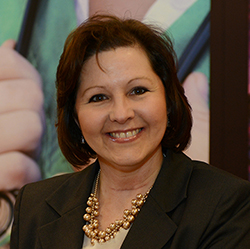 I recently took a DiSC classic assessment test. Apparently, I'm a "high D," which equals "Dominance." At first, I had a hard time thinking of myself as dominant, but then I read further and learned that "high D's like to take action to achieve the results they desire. They seek opportunities for advancement and individual accomplishment, and they often aspire to positions of power and authority. The main objectives for people high in dominance are typically control and results, with the freedom to make quick decisions whenever necessary."
I have to admit, I've always been goal-oriented and driven. I've worked hard on my education, on professional development and on improving my knowledge about what and how we do what we do at work. On the other hand, I've also been a homebody who doesn't like to stir up conversations with strangers or put myself in situations I've never been in before.
The revelations from this most recent DiSC assessment made me think about my role as NCMPR president. Yes, a "high D" seems perfectly suited to assume this kind of leadership role. But for me – a self-proclaimed introvert who squirms at the thought of uncomfortable situations – there seems to be a disconnect. At the same time, however, it's been a game changer for me.
More than 10 years ago, I sat in the opening session at my first national NCMPR conference, watching members of the NCMPR board stand in front of the crowd as they were introduced. Never in a million years did I think that might be me someday. Before long, however, I found myself on the planning committee for the District 3 conference in Detroit, Michigan, and soon after that, I was asked to consider running for the position of District 3 director.
My supervisor at the time encouraged me to get more involved in NCMPR. I think he put it this way: "This is not only a great opportunity for you, but it is a wonderful opportunity for the college." I put in my application, and before I knew it, I was the new District 3 director, excited about the work and opportunities to come.
Two years after that, I got a call from the incoming NCMPR president, Ron Taber, who asked if I would consider moving up to the NCMPR executive board as an officer. In my head, I said, "Who? Me?" but the word "Yes!" instantly came out of my mouth.
And here I am. Next March (March 18-20), I'll have the pleasure of presiding as president at NCMPR's annual national conference in Las Vegas, Nevada. I promise that my knees will be knocking behind the podium, and my hands will be shaking. Nevertheless, I will speak from the heart.
As I recently wrote in another blog post ("Take a Chance on You"), I'll be encouraging YOU to get more involved in NCMPR, to put yourself in a leadership role, even if it makes you uncomfortable. It will – without a doubt – help you grow both personally and professionally! My advice – do it!
Michele Kersten-Hart is the NCMPR president and the manager of multimedia and web services at Oakland Community College in Michigan.