by Dave Murray
Grand Rapids Community College
Grand Rapids, MI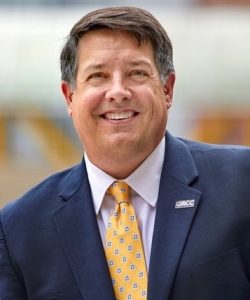 It started after we heard from a student who received a letter from the college after applying: "Have I been accepted?" she said. "I can't tell."
That prompted Grand Rapids Community College's (GRCC) Communications Department to take a peek at the letters going out to new students, then work with campus partners to elevate our acceptance experience.
We know first impressions are important, and community colleges already wrestle with long-outdated misperceptions.
Now, all students accepted to GRCC receive a bright, colorful, and celebratory package commending them for taking this next step in their educational journey. We want them to be loud and proud.
The original acceptance letter that confused the student was a little on the bland and bureaucratic side. It included instructions about how to set up a campus email and Blackboard account.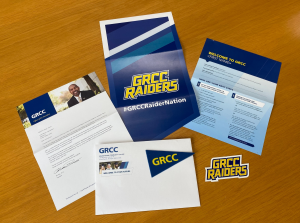 Our new package starts with an envelope with a color photo of three students and the words "Welcome to your Future" on the front, and "Show us how bright your future will be" on the back, with a graphic of a GRCC pennant.
Inside, the first thing students pull out is a letter from our charismatic president with a full-color photo of him.
Next is a flyer with information about their student number and setting up the accounts. It is colorful with the student's name in big, bright yellow letters. The steps are described simply, and the back says "We are here to help!" with contact information in case students need some assistance.
Then they pull out a trifold, die-cut poster printed on heavy stock. One side has our GRCC Raiders athletic logo and the other side shares how students can win a T-shirt if they post a photo on social media of them posing with the poster.
They also get a laptop sticker and a felt magnet shaped like a pennant, both with college logos.
Repackaging our welcome was not inexpensive, and required collaboration and financial support from multiple departments and a new process with our campus print shop.
We wanted this to be celebratory as well as welcoming. We want students to know we want them here, and we'll go the extra mile to help them be successful.
Dave Murray is the communications director at Grand Rapids Community College in Michigan.