by Jaclyn Y. Garver
NCMPR Communication Specialist
Fort Wayne, IN
Leadership training has never appealed to me.
Let me rephrase that: The outcomes and to-dos of leadership training have never appealed to me. I don't want to tour businesses. I don't want to manage a team or learn how to do so. I don't have a goal of staging a coup and overthrowing NCMPR's executive director. (Truly, even the idea of that makes me giggle. If you know me at all, you may be chuckling, too. It's absurd, I promise.)
But I do like seeing other people succeed, and I like helping them reach their goals. I like taking the lead on projects, and I enjoy things like staff development, helping a team work better and more cohesively together. As I learned from last year's cohort, NCMPR's Leadership Institute is about growing those kind of leadership skills. So for 2022-23, I'm a member the 10-month program – 18 NCMPR members and me, a national staffer.
For the program's kickoff, we met for a day and a half in Orlando in June. Before this meeting, we all took the CliftonStrengths assessment. For those unfamiliar, it's sort of like a personality test, and the results pop out the taker's top strengths. By studying those strengths, we learn how and why we work the way we do, how to use those strengths to do better and how to better work with others.
I was extra interested in this aspect of the program. I've taken the assessment before (and even wrote about it for this blog, exactly four years and one day from the date I type this). Four years to a student sounds like an eon, the entirety of high school or a traditional bachelor's program. But in time's funny way, to me, "four years" sounds like yesterday but feels like another lifetime, another person.
Peggy Young, our instructor for the Institute, said that top strengths can change if there's an upheaval in your life or if you go through something especially rough. I did, and while my top four strengths stayed the same, this weird one called strategy crept into my top five. It used to be No. 20. My former top-five strength, positivity, fell to No. 14.
I anticipate spending a chunk of these next 10 months figuring out what the heck that means, both intellectually (I'm not sure I fully understand the strategy strength, something about immediately seeing a range of possible paths and knowing instinctively which is the right one/best one, but … huh?) and personally (as I wrote about in 2018: I'm a millennial, and I dig the self-reflection encouraged by personality assessments).
I'll spend another chunk getting to know the spectacular people in my cohort, which include entrepreneurs, Ph.D.s, and fellow recovering daily newspaper people … directors, vice presidents and managers … creatives, analysts and extroverts.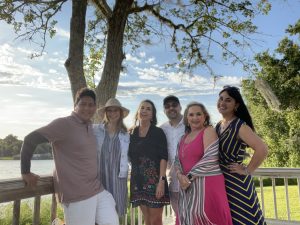 And I'll spend time working on me, tapping into the way my strengths can best benefit my team and my relationships.
Jaclyn Y. Garver is the communication specialist at NCMPR and resides in Fort Wayne, Indiana.