by Ellen Davis
Temple College
Temple, TX
The 2019 NCMPR national conference in San Antonio was packed full of great presentations, but one I found particularly interesting was the closing keynote given by Erika Prosper Nirenberg.
Nirenberg is not only the First Lady of San Antonio, she's also director of customer insights for H-E-B, a grocery chain that is based in San Antonio.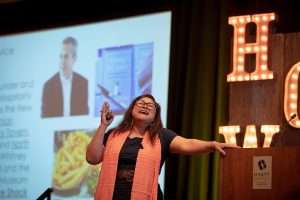 Most non-Texans have probably never heard of H-E-B, but for those of us in the Lone Star State, it's a big part of our lives. You don't say "I'm going to the grocery," you say "I'm going to H-E-B" because it's pretty much the only game in town when it comes to grocery stores (unless you can afford to shop at Whole Foods). In my hometown, the big decision is whether to go to the "new" H-E-B or the "old" H-E-B.
Other than dealing with traffic in the parking lots (which Nirenberg admits they receive a lot of complaints about), I always enjoy shopping at H-E-B, mostly because the employees there are so friendly. Most of their cashiers are probably local high school students for whom this is their first job. But they are always so welcoming and eager to help, I wonder if H-E-B just hires the cream of the crop or if they have trained employees to be this way.
Nirenberg said that in her industry, what they ask employees to do is 49% "service" and 51% "hospitality." "Service" is an employee's ability to do their job from a technical standpoint, such as ringing up the groceries. "Hospitality" is the things employees do for customers that make them feel welcome at the store. This is the friendly greeting and asking if you found everything you wanted or if you need help getting your groceries to the car.
Nirenberg suggested that those of us who work at community colleges – just like those who work for H-E-B – should look at things through a "hospitality" lens instead of a "service" lens. Just like grocery shoppers, students need to feel like they belong at the college and treated like they are VIPs.
Each fall, our student and enrollment services division sends a survey to all our students asking them how they were treated in areas such as admissions and records, advising and financial aid. While most of the students have very nice things to say about our employees, there are always a few who say employees in various areas were either not very friendly to them or just didn't seem to care.
Maybe it's time community colleges move from a "service" mindset to a "hospitality" mindset.
Ellen Davis is director of marketing and media relations at Temple College in Temple, Texas. She has more than 30 years experience in various aspects of college marketing, including publications, media relations, social media and website development.