by Dr. Lane A. Glenn
Northern Essex Community College
Haverhill, MA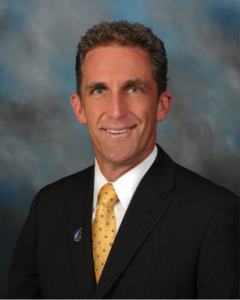 I'm going to tell you my community college story, and then I'd love to hear yours.
When I was in high school, back in the early '80s, I was a pretty smart kid, and I knew I wanted to go to college.  As a first-generation college student, what I didn't know, though, was how to navigate the system for getting into college—and how to pay for it.
My parents were high school sweethearts who graduated, married at eighteen, and went right to work: Mom at a local diner in Warren, Ohio with her new mother-in-law; and Dad enlisted in the Marines, where he spent more than twenty years in service to his country.  By the time I was a teenager, an early-age stroke had left Mom homebound and permanently disabled, and money was tight for our family.
I was proud of Dad, and understood that the military could help me finance my college education, so I applied for the Naval Reserve Officers Training Corps, ready to become a lieutenant in the Marines (even though my career ambition at the time was to be a journalist).
But then a local bank in Del City, Oklahoma came through with a scholarship for $150 a semester to a nearby community college. Back in 1985, that covered all of my tuition, as long as I kept my grades up.  I worked part-time jobs to pay for other expenses, but the scholarship is what led me to the door of Oscar Rose Junior College.
I spent two years at ORJC (now Rose State College), then transferred to Northeastern State University on another scholarship and completed a bachelor's degree.  Then on to Oklahoma State University and Michigan State University, still following scholarships and teaching fellowships, and picking up a master's degree and a doctorate.
In my career so far, I have been a writer, an actor, a director, a carpenter, a stagehand, a designer, a teacher, a dean, a provost, and now, a president.
And across all those years and miles, community colleges have been a nearly constant feature of my life, from Rose State College in Midwest City, Oklahoma, which gave me my start as a student; to Lansing Community College in Michigan's capital, for my first teaching and administrative jobs; then Oakland Community College near Detroit,  and now Northern Essex Community College, where I am president, back in my home state of Massachusetts.
Rose State College, my community college, gave me purpose.
How about you?
The Community College Advantage
Nationwide, According to the National Student Clearinghouse Research Center, nearly half (49%) of all students who complete a bachelor's degree at four-year institutions, like me, have also attended a community college.
Are you one of us?
If you are, then you know some of the tremendous advantages community colleges provide.  They are affordable, close to home, have smaller class sizes and provide more personal attention from professors and advisors.
And they are effective.
Research by the Jack Kent Cooke Foundation shows that community college students who transfer to four-year institutions, including the nation's top 100 most selective schools, are more likely to graduate with a bachelor's degree than students enrolling straight from high school or transferring from other four-year institutions.
So much to love about America's community colleges!
Too Often Overlooked
But when you read the resumes or check out the Facebook and LinkedIn profiles of community college alums, usually you'll find proud proclamations about the university that stamped their bachelor's degree, their MBA, or their PhD; but not a peep about where they spent a semester or two taking classes, or even a few years completing an associate's degree at a community college.
Once community college students drive off to that four-year college or university, then into their careers, very often the place that gave them their start fades into the rear-view mirror.
The result, unfortunately, is that community colleges—like the one you may have attended—are often overlooked, misunderstood, or even harmed when it comes to resources and public policy.
For example:
Even though community colleges educate nearly half of the undergraduates in America each year, including the largest proportion of first-generation, low-income, minority, and other at-risk students, they typically receive 25% or less of a state's higher education funding.
According to the most recent Council for Advancement and Support of Education (CASE) Voluntary Support of Education report, charitable donations to colleges and universities in America rose last year by over 7% to nearly $47 billion. But almost 70% of those contributions went to already wealthy research universities, while community colleges collected less than one-half of one percent (.004).
Critical federal educational policies routinely ignore community college students. The U.S. Department of Education's approach to Pell grants for low income students, data gathering for institutional accountability, student loan regulations, Title IX enforcement about athletics and sexual assault, and many other important policies are usually aimed at young, "traditional" four-year, residential college students, who are less than a third of U.S. undergraduates today. The needs of the nearly six million community college students, who tend to be a little older, live off campus, take classes part-time, and work thirty or more hours a week to pay for their own education and often to support families of their own, are overlooked.
Like the feds, both Hollywood and American media typically focus on "traditional" college students, especially those applying to or attending elite universities with ivy-covered walls. Think Legally Blonde or the recent "Varsity Blues" admissions scandal.  The real stories of most undergrads, especially community college students, rarely get told.


Be Proud: Tell Your Community College Story
This is where you come in.
If you attended a community college—ever, even if only to take one class—I invite you to share your story with me, with millions of other community college alumni, and with America's policymakers, philanthropists, reporters, and maybe even a movie producer or two.
Here's how, in three easy steps:
Be proud! Post your story on all your social media channels and:

Include the hashtag #MyCommunityCollege.
Add one sentence about what your community college did for you.
Tag the community college you attended.
Tag anyone you know who attended a community college.
Throw in a picture if you're really brave (check out my example below).
Update your resume, web site, LinkedIn, Facebook, and other social media profiles to include the community college you attended.
Forward, retweet, and share this article with everyone you know (especially anyone who attended a community college).
And if you want to get even more involved to help out your alma mater and community colleges everywhere, here are some more ideas for you:
Recommend your community college to family and friends.
Attend events on your community college's campus.
Contribute to your community college's Foundation (even a small amount makes a difference!)
Volunteer your time: Be a guest speaker, join your community college's Alumni Board, an employer advisory committee, or serve as a student tutor or mentor.
Find a place at your company for interns from your community college.
Show your school colors! Wear your community college's shirt and put their sticker on the back window of your car.
#MyCommunityCollege gave me purpose and changed my life.
How about yours?
Dr. Lane A. Glenn has been president of Northern Essex Community College with campuses in Haverhill and Lawrence, Massachusetts, since 2011.