by Jeff Ebbing
Southeastern Community College
West Burlington, IA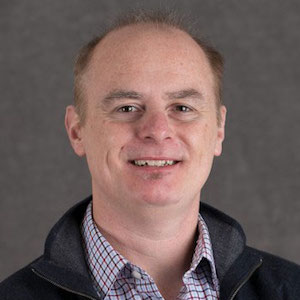 I recently had a once-in-a-lifetime opportunity to attend training at the Googleplex in the heart of Silicon Valley. This modern-day Vatican of the internet was just as amazing as I dreamed it would be. Organized by Interact Communications, the visit was chock-full of great content about all things digital marketing.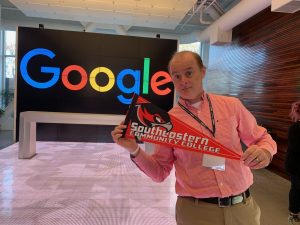 And as magical and blog-worthy as it was, one of the biggest takeaways of my trip, was quite literally, the trip. You know the saying, "It's the trip, not the destination?" Well, they're right.
It all started with an early morning commuter flight from the airport located mere blocks from my house. After I got to O'Hare, I had a few hours to kill before my next flight so, naturally, I splurged on a Kevin Bacon Blue Cheeseburger (yes, it's as delicious as it sounds) in the terminal's upscale burger joint.
The flight from Chicago to San Francisco was uneventful. At least if you call flying first class for the first time in your life uneventful. Sure, the chickpea and quinoa salad, the warm towels and an entire can of ginger ale were all quite nice. But the legroom. If you've never experienced the bliss of effortlessly crossing your legs at 37,000 feet, I highly recommend it.

It was my Beastie Boys biography audiobook, my ginger ale and me. Four hours later, we touched down at SFO. Life was good.
Thanks to armies of people and billions of dollars of technology, I traveled 2,000 miles expending less effort than a trip to the grocery store. Wow, the entire world was truly within reach.
The next day Google pulled back the digital curtain on all things web – clicks, ads, cookies, videos, keywords, websites – buckets of data there for the taking.
After our marathon training session, a group of fellow Googlers (it's what we call ourselves now) grabbed a bite to eat. On our return trip to the hotel, the shuttle driver asked, "Wanna see where Steve Jobs used to live?"
Ummmm. Yes!
Thus began our after-hours tour of Palo Alto. We saw the HP garage, Google founder Larry Page's house, and yes, Steve Jobs' house, complete with security guards snoozing in unmarked pick-ups.
It was surreal. Other than the occupants of the houses, we were driving through what could have easily passed as any middle-class neighborhood in the country. No mansions or gilded gates; just average cars parked on the street, recycling bins on the curb, and us in our hotel minivan. These multibillionaire titans of tech lived just like us. Mind = blown.
My world got even smaller. If people in this plain-Jane neighborhood could change the world, why couldn't I? What have I been doing with my life? A cathartic moment if ever there was one.
The next morning I headed back to the airport, still dizzy from my tectonic paradigm shift.
I scanned my phone at the TSA line only to discover that my first-class direct flight was canceled. No problem. As long as I made my commuter plane, all would be fine. So the agent put me on the jet to Dallas in time to catch the 2:30 flight to Chicago.
Thus began my epic odyssey.
Once I landed in Dallas, the flight to O'Hare was already 90 minutes late. Bye-bye puddle jumper. Three calls in rapid succession revealed tomorrow's flight fully booked and no rental cars available either.
Surely the airline (which shall remain nAAmeless) could help a guy out.
When I saw the Space Mountain-length queue snaking in front of the customer service counter, clever me hopped the airport tram for the other counter two terminals over. Turned out there were another hundred people more clever than me. We moved 30 feet in 30 minutes, and I had at least 200 more feet to go. I could either stay in line to complain or catch the plane to Chicago. I bolted back to my gate.
Another two-hour delay (including a full deplane and reboard) and an hour parked on the tarmac later, I was in Chicago.
A good chunk of us made a beeline to the customer service counter to exact a pound of flesh for our collective pain and suffering, everyone mentally rehearsing their rant of biblical proportions for their turn with the airline agent. It. Was. Brutal. At one point, I saw an agent talking on two phones at once (I swear I'm not making this up).
Enter Sylvia. A middle-aged woman with long gray hair in dire need of conditioner and a blow-out, Sylvia had clearly been around the block more than once. She calmly sauntered (yes, sauntered) up to my weary group holding up the back of the line.
"You folks looking for hotel vouchers?"
We followed her to an empty counter to plead our cases.
She listened to the foursome of bros headed to Japan for some "serious R&R."
"Let me check on the red-eye to Tokyo with JAL. Yup. Gimme a sec. done!"
The schoolteacher and firefighter on their dream getaway to New York City? Rebooked and on their way.
Those retirees on their way to Spain? Hilton vouchers and the 8:00 a.m. to Madrid.
Finally. My turn. Brace yourself, Sylvia, because Hell hath no wrath like angry Marketing Guy.
"Um, yeah. I missed my commuter flight and I can't get a car or flight home for two days."
Sylvia politely explained that since the airline delivered me to my final destination within their system, they owed me nothing.
In an instant, I felt the crushing weight of a world that just a day earlier fit in the palm of my hand and held infinite possibilities. Home was again far away and I was helpless to get there. I might as well have been on the moon.
Sylvia, taking pity on me said, "You could take the Blue Line to the bus station. It won't be pretty but it'll get you home."
Sweeter words had never been spoken. NAAmeless airline didn't give a damn, but Sylvia knew enough to throw me a lifeline.
A few taps on my phone and I had my ticket: the 6:10 a.m. to Burlington. Now past midnight, I settled into a moderately comfortable booth in the food court for a quick snooze then hopped the 4:30 a.m. train into the city for a half-mile walk to the bus station.
Few experiences in my life have caused me to ponder my choices. Drinking a $3 cup of bus station coffee at 5:40 a.m. was definitely one. The place was light-years behind the first-class luxury from a few days ago. No hot towels, no quinoa, no Kevin Bacon Blue Cheeseburgers. No one wanted to be there. A lone sparrow stuck inside the building circled nervously overhead. I'm pretty certain it was pondering its life choices, too. I boarded the bus and was on my way.
A mere 39 hours after I left my hotel, I was back home. My journey at an end.
The U.S. air transportation system is a modern marvel, but my experience demonstrated that one little hiccup can reduce it to a house of cards.
So what does any of this have to do with community college marketing?
Technology is amazing when it works, but sometimes you need Sylvia.
Google and its brethren have brought a sublime science to marketing heretofore unseen. We can target people with incredible accuracy, serving them the perfect message at the exact time they should take action. The efficacy of this powerful technology's cold, hard ROI has made our jobs equally easier and harder than ever before. We are becoming slaves to data.
As modern marketers, it's easy to be dazzled by the granular efficiency of all the fancy gadgets, trackers and apps. What gets measured, gets done. But in doing so, we risk alienating the very people we're trying to reach. High tech does not equal high touch.
We've all seen how our systems can swallow students whole. What's worse is that many of our students are the least capable of navigating complex processes. Life hasn't been easy for them. While online forms and drip campaigns have vastly improved our efficiency and accuracy, they're not exactly what that 55-year-old displaced worker who won't give up his flip phone needs right now.
How are you helping those working-class parents who are so proud to send their child to college complete their FAFSA? What about the single mom who's trying to finagle a schedule that allows her to get in enough shifts at work that also jives with her babysitter?
No. There isn't an app for that and it's why we must advocate for a place in our college for Sylvia. It's crucial we remember that.
How are you delivering on your brand promise and college mission to provide access to everyone?
This trip taught me that I don't need to change the world, just change the world in me.
And that Sylvia deserves a raise.
Jeff Ebbing is the director of marketing and communications at Southeastern Community College in West Burlington, Iowa, and NCMPR's District 5 director.