by Jaclyn Y. Garver
NCMPR Administrative Services Coordinator
Fort Wayne, IN
Of all the things the coronavirus has ruined (or simply changed, for the optimists out there), perhaps one of the most frustrating for community college marketers professionally is that … well, dang, that former messaging doesn't make sense anymore.
So what if you're close to home if I can't step foot in the building?
So what if the class sizes are small if there's no one sitting next to me?
So what if you provide the best hands-on instruction at a fraction of the cost if I can't actually touch anything?
A communications pivot, however, doesn't have to be a bad thing, and NCMPR member colleges throughout the country are highlighting new benefits and crafting new messaging to assure students, "Hey, we've still got your back."
Here are some of the new focal points being used by community colleges:
Online Classes
Kellogg Community College in Battle Creek, Michigan, has switched up its "Make It KCC" campaign to focus on online classes with the new verbiage "Make it online."
"For advertising, in both traditional and online placements, we're focusing specifically on our online class and program offerings, often with a message along the lines of 'KCC offers hundreds of online classes and five online associate degree programs,'" says Simon Thalmann, Kellogg's digital marketing manager.
The college has also been driving traffic to the online program page in lieu of its registration page.
Ivy Tech Community College in Indiana, too, is focusing on online courses and programming, especially those degrees that can be earned entirely online. It's also sharing examples on social media of how instructors can teach online—and how students are succeeding.
Advertising now includes updated taglines, says Donna Kiesling, the assistant director of marketing and communications for Ivy Tech's Lake County Campus in East Chicago, Indiana: "Ivy Tech. Because learning never stops" and "Life changed. Your goals don't have to. Let Ivy Tech get you started on your path to a great career."
We're in This Together
A number of colleges are turning to messaging that highlights the "community" in "community college." Yakima (Washington) Valley College's 30-second spot, in English and in Spanish, pushes the message that it has "served this community for over 90 years, and we're not stopping now."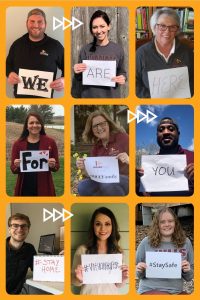 The College of Abermarle, in Elizabeth City, North Carolina, too, is highlighting that it's got your back. Its new tagline, "COA is with you today and TOMORROW," ties in with its regular tagline, "Transform Your Tomorrow."
"We felt it gives an impression of the fact that we are still here for them and encourages them to think about the future," says Patrick Detwiler, the director of marketing for the college's Elizabeth City Campus.
For current students, the messaging focuses on registering for next semester while students finish up their current classes. For new students, it's about planning for tomorrow and taking steps today.
"In everything, we are stressing that while we are social distancing, we are still here for students," Detwiler says.
A postcard promoting the virtual registration fest at Indian Hills Community College in Ottumwa, Iowa, for example, focuses on advising, admissions and student services staff with the message "We are here for you."
Stay Home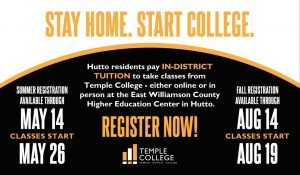 When a recruiter mentioned that families are feeling afraid to send their students away to college this fall, the marketing staff at Temple College in Texas came up with the messaging "STAY HOME. START COLLEGE" for summer and fall enrollment and its related postcard highlights Temple's tuition savings.
The college also managed to salvage its previous summer messaging, "Make the most of your summer," by switching gears a bit.
"This campaign is targeting current high school students, as well as students who graduated from high school one or two years ago and are now back home, possibly because they had to leave another school," says Ellen Davis, Temple's director of marketing and media relations. Plus, "we are hoping to get students who are stuck at home to take some online classes over the summer."
Jaclyn Y. Garver is the administrative services coordinator at NCMPR and the former communications coordinator at Ivy Tech Community College in Fort Wayne, Indiana.