by David Murray
Grand Rapids Community College
Grand Rapids, MI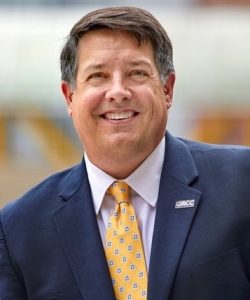 Colleges across the nation transitioned to online learning when the pandemic struck last spring, and many have continued offering all or many classes remotely in the fall.
But what does that look like, and how does it work?
It was vitally important to show our students – and all of West Michigan – that Grand Rapids Community College classes were continuing. We needed to assure them that while the pandemic had forced professors to change the way they taught, it didn't alter the value or the quality of the education delivered.
Initial perceptions that students were sitting in front of computers, scrolling through screen after screen of text, were dispelled with images of GRCC professors developing interactive lessons, hosting engaging discussions, and continuing the relationships and support that started months before in a traditional classroom setting.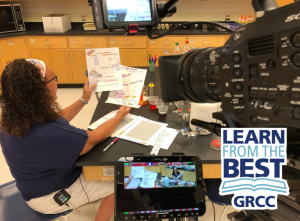 We captured images of professors conducting classes, whether they were recording videos in labs or connecting with students using Zoom. Our media technologies team played a key role, snapping photos of the action, showing cameras and all. The communications team then followed up, asking professors about their experiences.
We were impressed at how many faculty members embraced this opportunity, finding innovative ways to present material – and sharing what they were doing.
One professor recorded a lesson at an alligator sanctuary. Residential construction lessons were recorded at a job site. Exercise science faculty demonstrated workouts from their garages. Workforce professors created "labs in a bag," gathering sterilized materials, setting them in bags in their driveways, and inviting students to pick them up and complete the work in their homes.
An English professor invited an internationally known author to join her class via Zoom, allowing him to interact with students, even hearing them recite their work and providing feedback.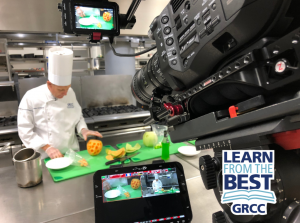 We shared examples from culinary, music, visual arts, healthcare – all subjects people might not realize could be taught remotely.
We posted images and stories each day across our social media platforms, creating a branded "Learn from the Best" icon for the photos.
Our goal was to inform students and the public about how distance learning works, but also showcase our faculty members' expertise and credentials. We want our community to know the caliber of our professors.
Along the way, we learned about an unexpected challenge of working and studying from home – children and pets – and that led to another social media campaign. We asked students, faculty and staff to submit photos of their "study buddies." Our social media feeds were soon filled with photos of cats and dogs demanding attention, and young children bouncing on knees.
Cute pets and kids are, of course, a social media staple. One of our goals was to spark some engagement, provide a little levity during a difficult time – and also show students that we understood what they were going through. We were right there with them!
But the photos also were an opportunity to show our student support services also continued remotely. Our galleries showed counselors, financial aid experts, the enrollment team and others who were on the job and ready to assist, even if the cat needed lap time.
We hoped the peek behind the curtain provided some transparency. It's OK to show we were still figuring things out, along with the rest of the world.
Like with our classes, the communication department's story telling didn't stop during the pandemic. It challenged the team to look at things differently and try some new approaches. We'll emerge stronger as a result.
Dave Murray is communications director for Grand Rapids Community College in Michigan. He spent more than 30 years in journalism and state government, covering education and serving in former Michigan Gov. Rick Snyder's administration. He graduated from the University of Missouri School of Journalism and Nassau Community College in New York.