by Jaclyn Y. Garver
NCMPR Administrative Services Coordinator
Fort Wayne, IN
In the fifth grade, my teacher made us memorize a poem. I have a terrible memory, so I figured my best chance at success would be to find a nice, short poem. I pulled out a Shel Silverstein book and found one of the shortest pieces in Where the Sidewalk Ends.
Clearly, I was right: More than a quarter-century later, I can still recite the thing:
Have you heard of tiny Melinda Mae,
Who ate a monstrous whale?
She thought she could,
She said she would,
So she started right at the tail.
And everyone said, "You're much too small,"
But that didn't bother Melinda at all.
She took little bites and chewed very slow,
just like a good girl should …
… And in eighty-nine years she ate that whale
Because she said she would!
In fifth grade, I liked it because it's such a sing-songy little ditty, which certainly helped my cruddy memory retain the words. Today, I dig its message: We can do hard things, dangit. Just be patient and take it day by day.
In March, the idea of getting through a pandemic that would last for who-knows-how-long seemed impossible. In the midst of the get-through, it felt impossible. When we forgot how to do the simplest things because of the most extreme burnout of our lives, it felt impossible. (I'm thinking back to the time I got hot dogs for a nice, easy dinner, and the only accouterments I picked up were … tomatoes. On the vine, not in the form of ketchup.) When people we loved got sick, or worse, from a novel virus, it felt impossible. When the virus maybe even found our own households and laid us up with the broadest, miserable range of symptoms, it felt impossible.
And when it came time to plan our wintertime celebrations, it felt impossible—or, at the very least, a little sad, a little melancholy. There'd be fewer people. Missing traditions. Altered meals. Less, well, stuff. (My family celebrates Christmas. I seriously love gift-giving and tend to, happily, go overboard with the gifting. This year, the stuff under the tree was seriously sparse.)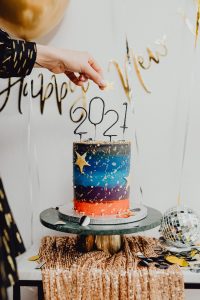 Historically, the New Year symbolizes a tabula rasa or clean slate. It's rebirth, a time for starting over and new beginnings. This New Year at NCMPR certainly coincides with change and new beginnings. Our long-time executive director has retired, and new ED James Walters steps into the position in the midst of something else that's super new: For the first time since we've started hosting national conferences, we're going virtual. We're bummed that we won't get to have that in-person connection that makes an NCMPR national conference so special, but we're thrilled by the good changes a virtual conference brings about: Taped breakouts and short takes means you don't have to invent a time-turner to access simultaneous sessions, and a dip in pricing means the conference is more accessible for colleges during a year when nearly a third of our members reported a slashed budget.
Whether this New Year's Eve finds you snoring at 9 p.m., pulling out the bow ties and pearls, plotting some 2021 resolutions or planning out all the episodes you have to catch during Syfy's The Twilight Zone marathon (or is that just me?), NCMPR wishes you a peaceful and healthy new year.
And remember: Eventually, just like Melinda Mae, we'll get through this stupid whale.
Jaclyn Y. Garver is the administrative services coordinator at NCMPR and the former communications coordinator at Ivy Tech Community College in Fort Wayne, Indiana.