by Dave Murray
Grand Rapids Community College
Grand Rapids, MI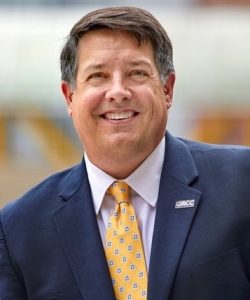 At heart, all of us in communications and marketing are storytellers. Grand Rapids Community College (GRCC) students have wonderful stories. They are stories of hope and perseverance. And we get to tell them.
The GRCC Communications and Foundation teams were honored and humbled to have our 2019-2020 Foundation Annual Report selected as the Best in Show at this year's Paragon Awards.
We think of the Paragon and the Medallion Awards in our District 3 to be a master class in community college storytelling. We don't just look to see who won, we look to see what the winners did, learn how they did it, and understand how our colleagues across the nation are helping their students.
The common theme running through every entry, whether it is a postcard or a video, from a large school to a small one, is that a community college education can change your life. It's a bond NCMPR members share.
We are proud to earn two first-place Paragons this year. The projects are very different, but both demonstrate the value of teamwork across our campus.
One Paragon was for a video, a collaboration with GRCC's media technologies team called "So You Think You Know GRCC?" So many people have misperceptions about community colleges. We sought to address everything from the community impact to quality education. And, we have a charismatic president who was willing to literally shout from the rooftop!
The Foundation Annual report won our second Paragon and was also named Best in Show. It takes a different approach, and a majority of our College Advancement team members contributed to it. It's a project we work on year-round. It is a testament to the power of storytelling, believing in our students and those who support them – and in ourselves. This project is completed entirely in-house.
We know one of the great parts of working at a community college is that you don't have to go far to find a student with a great story. That's both a mission and a strength.
Our biggest contributors to the annual report were Mary Reed, Julie Murray and Lisa Kirschner.
Mary, who oversees donor stewardship for the GRCC Foundation, works closely with students who are awarded scholarships and notes those who are overcoming great challenges, boosted by the college and community's financial support.
Mary and the team in the foundation narrow the pool of student, donor and alumni stories, and she takes the first steps toward bringing them to life by arranging photography, collecting the news events that energize the report, and providing the data that was used to build the infographics.
We work with two photographers for collegewide photography used across mediums. Steve Jessmore is a former photojournalist who transitioned into education photography and grew his reputation for capturing the heart of a brand through moving images of its stakeholders. Andrew Schmidt has told the story of GRCC and its students through compelling photography for much of his career. As opposed to a shot list, Steve and Andrew were charged with capturing the spirit of their subjects through photography to accompany the articles.
Julie is a specialist on the foundation team and is the primary feature writer, connecting with students, donors, and community leaders to translate their words into powerful stories.
Lisa, a graphic designer with experience ranging from colleges to the 2002 Winter Olympics, had an opportunity to reimagine what our annual report could look like. She wanted the edition to look fresh, to vibrantly tell the story of the students the college serves, and the donors who are committed to helping them succeed.
With large photos, breakout graphics, limited paragraphs per page and dramatic pull quotes, Lisa said her intention was to arrive at a melding of print and web, thinking about how people today read their news.
Two other design team members were on hand for Lisa to run ideas by and troubleshoot. And the other members of the communications and foundation teams were called in to review proofs and provide the always crucial fresh look at the final version.
The result is a report that looks back as well forward, hoping the stories of alumni, students, and the people who support them will inspire others to extend a hand and help the next generation.
We didn't intend or expect to earn Best in Show when we arrived in Denver. We were happy to be part of a large gathering again, reconnecting with NCMPR colleagues from across the country.
But hearing our name called, and seeing the award go to a project everyone on our two teams played a role in creating, is a moment we'll always remember.
Dave Murray is the communications director at Grand Rapids Community College in Michigan. 
Malinda Powers, associate director of communications at Grand Rapids Community College, contributed to this article.