by John J. "Ski" Sygielski, Ed.D. and Linnie S. Carter, Ph.D., APR
HACC, Central Pennsylvania's Community College
Harrisburg, PA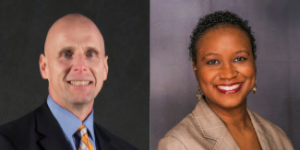 Having worked together for 14 years and having served six community colleges collectively, we have learned some important lessons about interacting with donors.
We are honored to share them with you:
1. Be professional. Donors are giving you their hard-earned money and thus deserve your professionalism. Treat them like VIPs.
2. Maintain professional boundaries. Donors are investors in your college's mission. They are not your friends. Refrain from mixing business and pleasure. When you do, the results are usually counterproductive.
3. Be courageous. There will come a time when a donor will ask you to do something unethical, immoral and illegal. Show courage when you say "no."
4. Listen more than you talk. This is a hard lesson for extroverts. However, try very hard to adhere to the 70-30 rule – listen 70% of the time and talk 30% of the time when interacting with donors.
5. Do your research in advance. Ask your team to research donors before you meet with them and review the research before the meeting. Weave in information appropriately throughout the donor meetings.
6. Know your audience. How you interact with donors depends on a lot of factors, including age, gender, race and affiliation with your college. A key message that works for one person may fall flat with another.
7. Do not "sell your soul" for a contribution. It is flattering for a donor to decide to invest in your college. However, never lose sight of your mission or core values – no matter how large the contribution.
8. Express gratitude. Thank your donors creatively, strategically and frequently.
9. Consider donors' needs first. Philanthropy is about the donor – not your college. Identifying initiatives that match donors' interests is key.
10. Cultivate and recognize donors more often than you solicit donors. Do you have that pesky relative who always calls when he wants to borrow money? Don't demonstrate that tacky behavior with donors.
11. Be honest. When you mess up, 'fess up. Always. Once you are caught in a lie, everything you do and say afterward will be suspect.
12. Remember that all money "ain't" good money. Sometimes you should decline contributions – especially if there are strings attached. Also, unfortunately, it is common for donors to try to use philanthropy to control and manipulate presidents and institutions. Just say "no."
Even though not all of your donor interactions will be positive, productive or fruitful, we can assure you that you will learn from all of them.
John J. "Ski" Sygielski, Ed.D. is the president of HACC, Central Pennsylvania's Community College.
Linnie S. Carter, Ph.D., APR is the vice president of college advancement at HACC, Central Pennsylvania's Community College, and executive director of the HACC Foundation.