by Jeff Ebbing
Southeastern Community College
West Burlington, IA
How do you describe a conference in one of the most iconic cities in the country in 500 words?
Well, I suppose I'll try here. Comes now my second installment of Tour de NCMPR.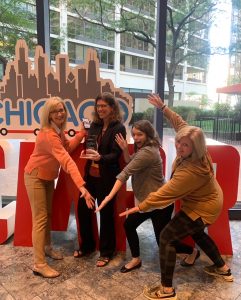 The NCMPR District 3 conference took place smack-dab in the middle of downtown Chicago. District Director Toya Webb and her planning team pulled out all the stops for "Chica-GO!" It was as swanky and high energy as it sounds with a conference program of equal proportions.
I arrived just in time for the Medallion Awards. The room was absolutely packed! It was glitz and glam Chicago style, including the coolest 360 video selfie stage I've ever seen. The work honored was just as cool, and I loved seeing all the winners flash their bling for the camera. Even though I didn't win anything, it was as close to a red-carpet experience I'll probably ever get.
I caught three great presos designed to build my creative muscle. Last year's NCMPR Rising Star Elissa Kojzarek demystified TikTok for everyone (even though I still plan to stick to watching her on Insta Reels like a proper Gen X'er!). In the next preso, Scott Piner, director of content and creative services at Elgin Community College, dazzled us with magic tricks and showed us how to seek out fertile creative ground inside the box. After that I found myself flexing my improv chops to explore creative problem-solving. If this higher-ed marketing thing doesn't pan out, I think I'll audition for Second City.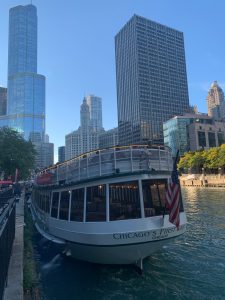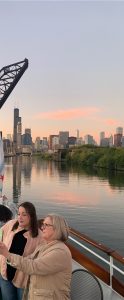 After a full day of learning, we ventured out on one of the most Chicago experiences I've ever had: a twilight riverboat tour of the city. We boarded the Chicago's First Lady for a 2-hour trip down the Chicago River to get up-close-and-personal with some of the city's most iconic buildings, including the Sears Tower (Willis Tower-Schmillis Tower), 333 Wacker Drive, draw bridges, and Union Station. If you've never experienced a Chicago skyline sunset by boat, I highly recommend it.
And who doesn't like speakers who bring free candy? Closing keynote Natasha Miller Williams, president of diversity and inclusion at Ferrara Candy Co. based in Chicago, seeks to embrace diversity to positively impact their workforce and connect with consumers.
Of course, no trip to Chicago would be complete without a visit to Lake Michigan and the Bean. Thankfully, I managed to sneak in a few selfies during my morning run. Memories = made.
A wise Chicago resident once said, "Life moves pretty fast. If you don't stop and look around once in a while, you could miss it."
District 3, you did NOT disappoint. Highest of fives to everyone.
Wanna see more of my Windy City stop? Pop open Instagram and search @jeff_ebbing or #ncmprfancy.
Next up: SoCal sunshine.
Jeff Ebbing is the director of marketing and communications at Southeastern Community College in West Burlington, Iowa, and the president of NCMPR.