by Jeff Ebbing
Southeastern Community College
West Burlington, IA
One of my favorite things about being an NCMPR member is going to my district conference. I've been fortunate enough to attend most conferences over my 17 years and I savor each one. I've written a few posts – When in Rome and Get Outta' Dodge – about the personal and professional value of getting out of town to experience new sights, sounds, tastes, and ideas and to connect with friends old and new.
As NCMPR president, one of the coolest things I get to do is visit district conferences across the country.
Through the magic of the internet, I get to bring you along! Just head over to Instagram and follow @jeff_ebbing or search #ncmprfancy as I report from the field a taste of NCMPR conference life.
First up on my Tour de NCMPR was District 5 in Sioux City, Iowa. I've been a D5'er (and Iowan) for my entire career, and it clearly hosts the best district conferences in the history of the world, but I admit that I may be a little biased.
When district director Kristin Kollbaum and her team came up with the conference theme "Refresh by the River," they knew they'd have to deliver. And boy, did they.
A record 64 of my closest D5 friends and I embarked on a trolley tour of old Sioux City. I now know the year of construction and the original owner of every single building thanks to our very knowledgeable, very thorough guide.
Oh and the river! The entire back wall of our ballroom room featured floor-to-ceiling windows that overlooked the Missouri River. Not gonna lie, I may have daydreamed a few times as pleasure boaters tooled past soaking up the beautiful late-summer sun.
I don't have the space to write about all the amazing presenters, but I need to tell you about one. You know how NCMPR always finds authorities to share timely tips for real-world problems? This year was no exception. Making an encore appearance after wowing us in 2018 was crisis communications consultant Bob McNaney. His top-notch presentation was just what I needed – like, literally. As I write this 20,000 feet somewhere over Illinois, I'm also dealing with a college PR issue. Bob's slide deck was a lifesaver! Three slides from his preso alone were well worth the cost of attendance.
Speaking of savvy communicators, another super shout-out goes to long-time NCMPR'er (even longer than me) and dear friend Lori Richards for being named D5 Communicator. If you don't know, that lady has been spinning Medallion and Paragon gold for nearly 20 years! I can't possibly think of a more deserving recipient than Queen Midas! Go, Lori!
Oh, and her acceptance speech will forever be the stuff of D5 lore. #hotdogtrophy #IYKYK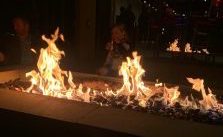 I could blab on and on about my dear home district conference but I'll save those stories for another day – perhaps during a bonding session at a future conference hotel bar fireplace.
Next up: District 3 in the Windy City.
Jeff Ebbing is the director of marketing and communications at Southeastern Community College in West Burlington, Iowa, and the president of NCMPR.