by Jennifer Boehmer
Portland Community College
Portland, OR
It was dark when I arrived at Pensacola Beach. I couldn't see a thing from my hotel window, not to mention I had just enough time to throw my suitcase on the floor before I rushed out to meet District 2 compatriots for a delicious seafood meal. Having never been to this part of Florida, you can imagine my reaction the next morning when I opened the hotel room drapes and beheld a jaw-dropping sight: white sands, palm trees and the enormous and sparkling-blue waters of the Gulf of Mexico, stretched end-to-end across the horizon like a jeweled second sky. It was amazing.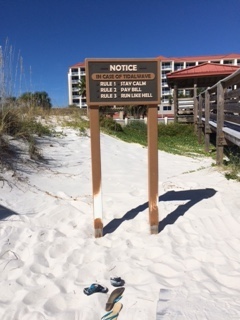 Sometimes it takes a reflective place to provide the headspace for concentrating on new ideas, and Pensacola Beach couldn't have been a better backdrop for several days of inspiring thinking found at the District 2 conference. Dee Dee Doeckel, our talented District 2 director, and her team of volunteers put together an excellent program – as beautiful as the waves were outdoors, inside there was plenty of content to surf.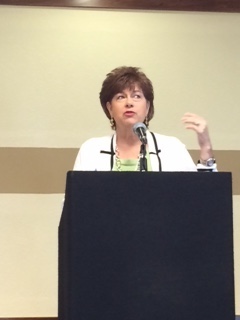 After a reception on the outdoor beachfront patio, we began with a keynote presentation by Dr. Cathy Wendland-Colby and these questions: "What would help you be more satisfied in your job? How can you help more people? How can you be the solution to the challenges you see around you?" Those are broad topics. But be honest, how many of us truly take the time to think deliberately about these biggies? Cathy is a doctor of chiropractic who has actually done just that, and as a result, has successfully created a nonprofit organization dedicated to opening more speaking opportunities for women. "Girl2Guru" was Cathy's response to a disparity she noticed in the health care world, and she chose to align her passion (public speaking) with an application that benefits other people. Our work in community colleges certainly puts us in the path of many people trying to aspire to new achievements. Cathy's words challenged me to consider how my own skills and passion areas might be used in new ways at my college, as well as my personal life.
The next day was chock-full of excellent presentations. Jonathan Medford of College Inbound opened the lid on his office processes and showed us how his firm manages the projects of all the different college clients they service. Central to his operation is the use of Google apps – his staff does nothing on the desktop, but writes all documents, spreadsheets, calendars, etc., through Google so everyone in the office has access. He also uses "task list templates" and asks each of his employees to first write a shareable task list for each job before they undertake it. These lists comprise the "standard operating procedures" for their business and make projects much easier to track. Check out teamwork.com for a tool Jonathan highly recommends for team management – and find his complete set of slides on his site, collegeinbound.com/ncmprd2.
Other presentation highlights for me included a discussion by Stephanie Meyer (Chattahoochee Technical College) on dual credit marketing. Stephanie offered a lot of great tips for building relationships with high school counselors and technical teachers – including inviting them to teach success courses at the college, a great way to build affinity and awareness. Stephanie stressed, for the investment of a tray of turkey roll-ups from Costco (HA!), you can invite important high school leaders to come to your college, learn about your program and emerge as advocates.
Tracy Louthain (TLC Communications) led a discussion about crisis communications that ended in a (gulp) mock press conference. Unexpectedly, I found myself at the podium playing the role of PIO during an imaginary college shooting, while my colleagues – and an actual local television reporter invited from the Florida area – played the role of journalists intent on getting a good story. Talk about nerve-wracking! But what an excellent opportunity for us all to practice our skills. Big thanks to Stephanie Pettis (Northwest Florida State College) for arranging this session, and to our reporter for making time to join us and give spot-on critiques.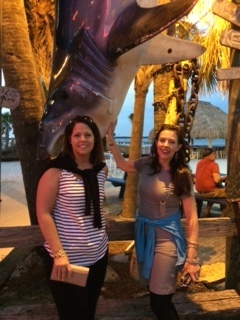 Stephanie Geyer, of the higher-education marketing consultancy Ruffalo Noel Levitz, served as our closing keynote. I can hardly begin to chronicle the wealth of information her session provided, but I encourage you to check out her slide deck on the NCMPR website. The reason this content cut through was because it offered the latest information on recruitment strategies for younger students, as determined from an extensive research effort recently completed. Among the findings we learned, for example, is that email – with links in it – is testing as a top recruitment device for high school students. Not what you'd expect is it? But as it turns out, email is second only to search engine optimization. Ironically, this is NOT the case for older adults who are less persuaded by email. But for the young audience, we all might want to dig deeper into email marketing. Of course, this also means developing landing pages on our websites that are compelling and lead students to decision points quickly. Another strange revelation: on these sites, the photographs that tested best were those that did not feature people in them. For example, beautiful shots of campuses, without the staged, smiling students included, proved much more engaging than those with staged smiling students we typically turn to. Why? According to our upcoming generation of students who were tested: "Because I can picture myself in that environment." Counterintuitive, I know, but just another reason for us all as communicators to continue to engage in professional development so we can learn about shifting perceptions.
The District 2 Medallion Awards dinner was lovely – partly because we had Florida key lime pie, but mostly because it honored the hard work of many college communicators in the area. Congratulations to all, and to Candace Grause (Tallahassee Community College), our District 2 Rising Star; Chris Franklin (Bevill State Community College), Communicator of the Year; and to Gary Branch (Faulkner State Community College), Pacesetter. Dr. Branch summed it up best when he said "I'm a salesman fundamentally – as president, my job is to sell the college and it's value to the community. You all help me do that."
A sad coda to this blog post: While attending this conference, I learned that my Grandmother Ellen passed away. As I took the call, I happened to be standing on the hotel balcony facing the ocean. Her favorite color was blue, and the view before me would have been exactly the kind of site she would delight in. Though it was heartbreaking, I'm grateful to NCMPR that I was able to be in that beautiful place as I processed the news. Big thanks to all the wonderful new friends I made in District 2 who showed such kindness and support.
Jennifer Boehmer is currently serving as president of NCMPR and is the associate director for strategic communications at Portland Community College in Oregon.