by Jennifer Boehmer
Portland Community College
Portland, OR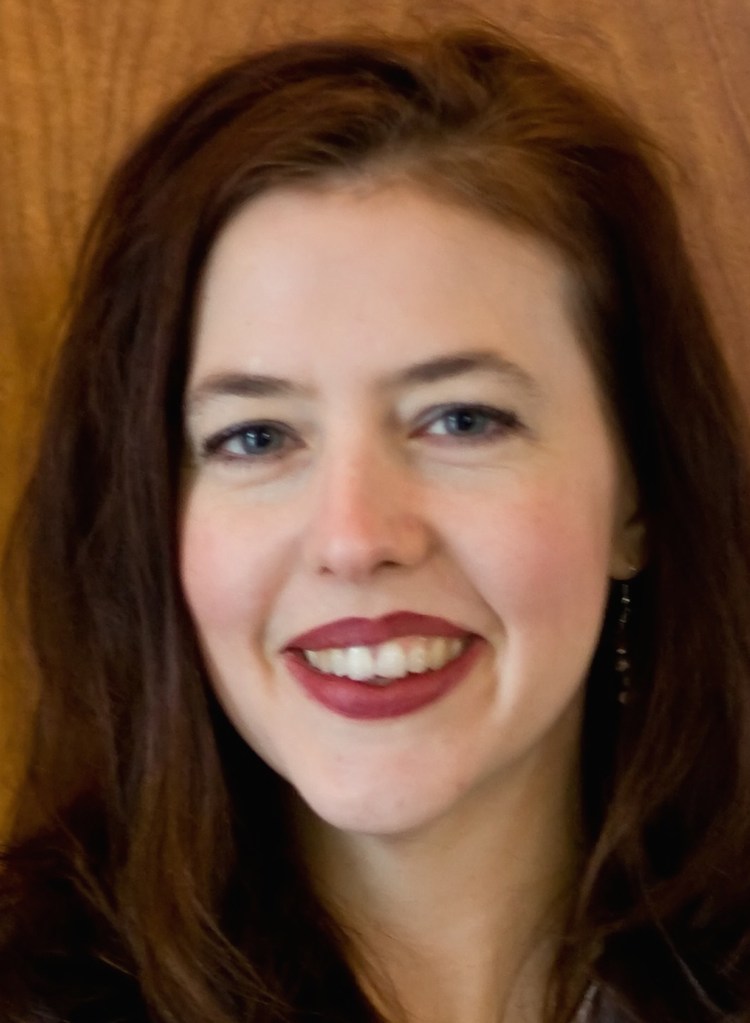 Some of the closest friends I've made in NCMPR come from District 5. As a fellow NCMPR member, I bet you know what I mean: These are the people I got to know when I first joined years ago, who I still turn to for advice, and who continue to make me feel as though my community college "posse" extends far across the country. These are also the people who reinforce why NCMPR is so special – because it connects communicators.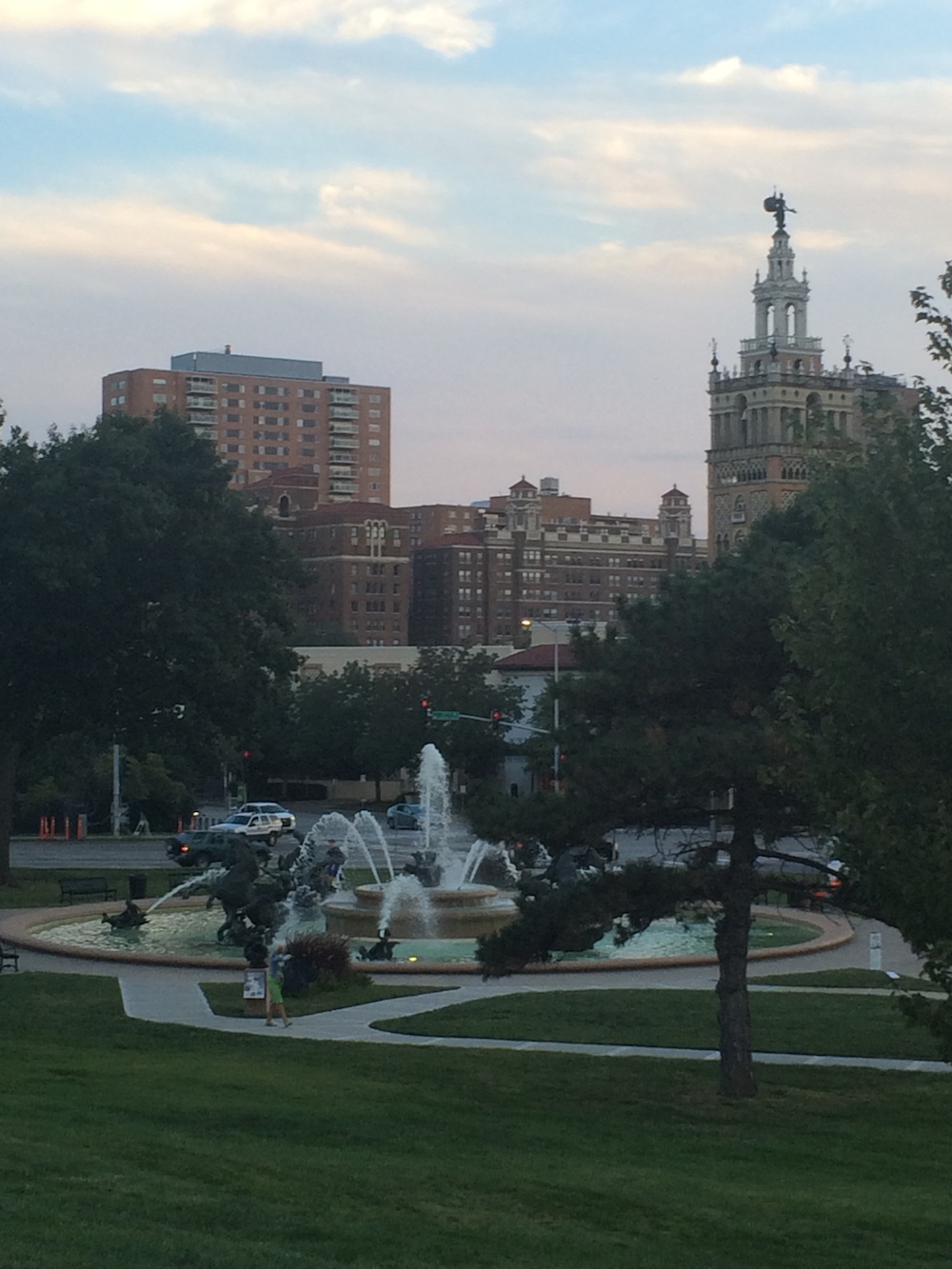 Which is why getting to travel to Kansas City was a special trip for me. District Director Erin Edlund reunited friends old and new during a social hour by the pool, followed by a compelling keynote speaker during dinner. Bonyen Lee-Gilmore, communications director for Planned Parenthood Great Plains, compared her organization's challenges to that of community colleges – not an obvious match at first, I'll admit. But her message soon became clear. Regardless of where your politics may lie in relation to Planned Parenthood, it's an organization that deals with clarifying assumptions about its role and stigma from all directions. How many times have we faced similar stigma at two-year colleges, especially when people assume we offer a second-rate higher education for those less capable? Bonyen's tactics for increasing understanding in her local community were applicable.
Dinner was followed by the District 5 Medallion Awards with many examples of great work, as well as the District 5 awards presentation which honored Pacesetter Ryan Purdy (Mid-Plains Community College); Rising Star Nick Hogan (St. Charles Community College); and Communicator of the Year Kristin Kollbaum (Northwest Iowa Community College). Congratulations to all! I especially want to share how touched I was to hear from Kristin, who took time to talk about the value NCMPR has provided to her over the years. Most recently, as a result of inviting her president to join her at the NCMPR Summer Institute, Kristin was placed on her college's cabinet. As NCMPR president and planner of that particular event, I can't tell you how rewarding it felt to hear that. It's good to see people achieving career goals because of NCMPR.
The next few days included some awesome presentations. One takeaway category included new tips for targeted marketing. I can often get overwhelmed by the sophistication that digital options now afford – I appreciated that this conference included, in equal measure, advanced techniques as well as basic starting points. For example, Allison Judy (Western Nebraska Community College) and Jennifer Aries (25th Hour Marketing) inspired me to stop thinking of tracking data as complicated and take another look at what can be learned through our college enrollment system. Hmmm. And Jeff Ebbing (Southeastern Community College) demonstrated the effectiveness of emailing formatted, branded reminders to students, as an inexpensive retention tool.
Another takeaway included insight around the importance of relationships. Kelly Snedden and Dewey Price (both from Butler Community College) recounted their stressful story of going from a full department, to being reduced to one person, to rebuilding a team to be stronger than ever. To do it required courage on their part, as well as a concerted effort to cultivate a renewed trust in the role of marketing – quite a feat, and lots to learn from. Sheila O'Connor (currently with Nebraska Trucking Association) was in charge of communication at Metropolitan Community College for nine years and in that time was called to navigate the choppy waters of hiring and firing in extreme cases. Her session about the kind of "soft skills" you need to empower employees to do their best work – and help your career trajectory in the process – was helpful to those of us in team environments.
I especially enjoyed a keynote presentation on branding given by David Patrick, owner of the agency High Performance Retail Marketing Group. David talked about the four brand types: invisible brands (RC Cola – hard to see; no longer engages well with customers.); establishment brands (Taco Bell – known; requires little education to understand the offer); challenger brands (Avis – understandable but challenges the status quo with an "underdog" strategy); and disrupter brands (Dollar Shave Club – works to redefine the product category altogether). Where do community colleges fall? David suggests we step into the mindset of challenger or even disrupter – these are the brands that are most creatively taking action to build demand. We all need more of that!
Finally, no trip to District 5 would be complete without two things: a good, Midwest meal and – my traditional D5 activity – karaoke. We checked the first box with a true barbecue meal at Jack's Stacks, where I gnawed on a giant piece of beef that looked like it was attached to a dinosaur bone. And in honor of member Jeff Ebbing's birthday, we checked the second with some howling musical renditions in downtown Kansas City. Great memories!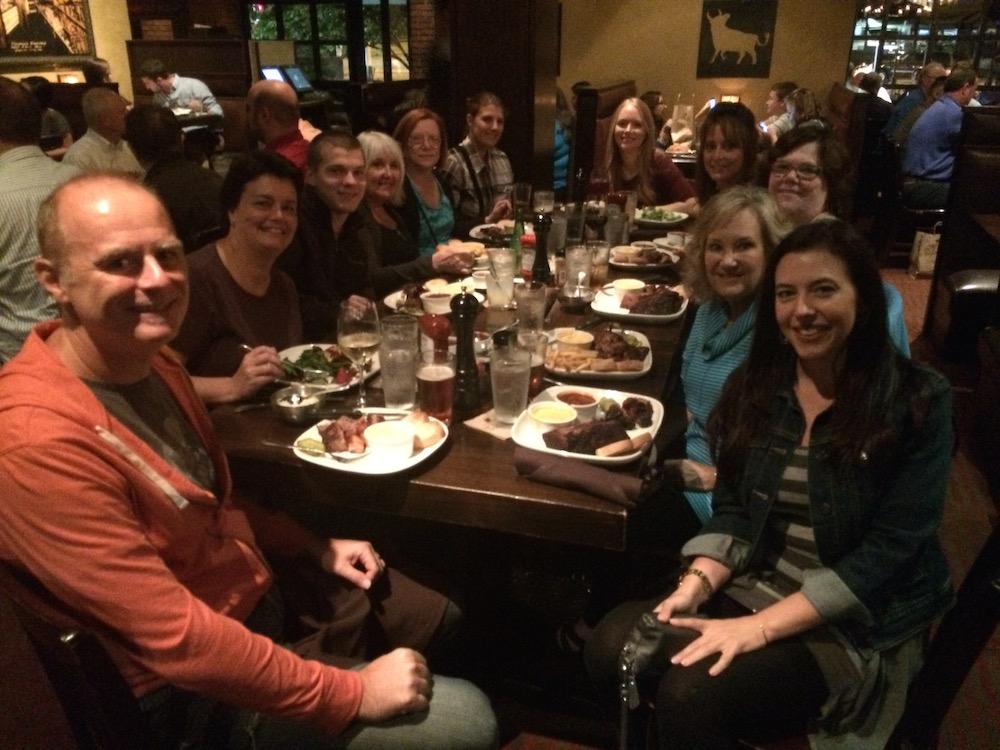 Thanks so much to my D5 friends for the warm hospitality and for connecting us, once again, to resourceful folks who are willing to share what they know. Because of your generous community, our colleges are benefiting.
Jennifer Boehmer is currently serving as president of NCMPR and is the associate director for strategic communications at Portland Community College in Oregon.