by Christine Payton
South Louisiana Community College
Lafayette, LA

The front door to your home should be appealing and inviting to visitors. It should draw people in with a warm welcome. Your college's website is a virtual front door and should be treated with the same care.
If you're tasked with building a new website or redesigning an outdated one, it's best to start with a great team. I recently led a team (actually several committees) through the redesign of South Louisiana Community College's website: www.solacc.edu.  It was a challenging process but in the end, the college enhanced its virtual curb appeal tremendously.
Forming a team with the right players is key from the get-go. For SLCC, the first group of folks on this project included staffers from public relations, IT, accounting and purchasing. Each player brought a different expertise to the table and together, we were able to scrutinize company proposals from many different angles before selecting a local firm to redesign our website. Selecting a company that understands your branding, your place and value in the community, and your goals is key to achieving great results.
Equally as important is getting buy-in from your institution's staff because you're going to need some help with content, especially when you consider that the content that goes behind the landing pages is really the meat and potatoes of the website. No one person can possibly know all there is to know about an institution, so I sought help from various departments across campus.
Here's some other lessons learned:
•    Use photography of your students, classrooms, campuses. Hire a great photographer to capture moments of your students and spaces instead of opting for stock photography. Consider it an investment and use the photos for marketing, social media, etc.
•    Listen to your analytics. If you aren't monitoring traffic on your website now, install Google Analytics. After a while, you'll be able to see trends such as frequently visited pages, age range of visitors, and other behaviors. It's vital to track and then listen to the story your analytics are telling. Our most visited pages are admissions, academics and student-related pages, so we put those front-and-center.
•    Know that even after the new site launches, it's still a work in progress. A website should always be fresh and inviting. This means sections reserved for campus news should be updated frequently. In addition, some navigation tools that seemed to make sense when your redesign starts may not be as relevant post-launch. Again, listening to your analytics is important.
Here's a screenshot of the old site: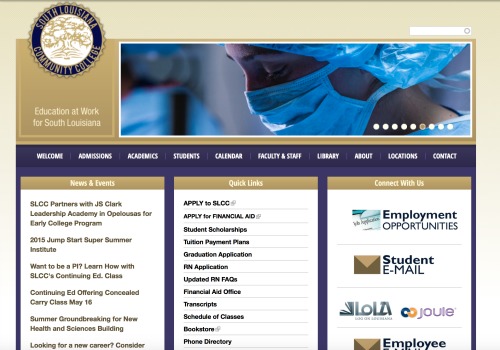 And a shot of the new site: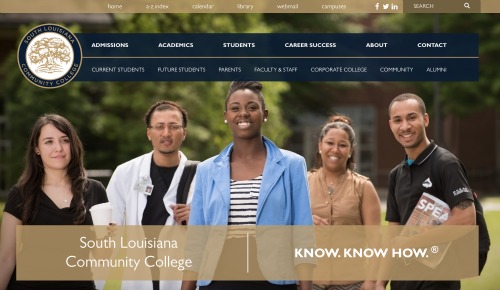 Who else underwent a website redesign? Let's share our experiences and see the final products.
Christine Payton is director for communications and marketing at South Louisiana Community College in Lafayette.