by Linnie S. Carter, Ph.D., APR and M. Pamilla Saylor
HACC, Central Pennsylvania's Community College
Harrisburg, PA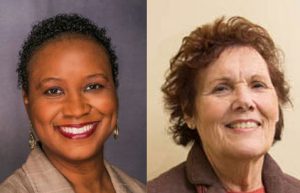 Integrated marketing communication professionals are well aware of the pitfalls of being unprepared, improperly dressed and obviously unrehearsed when appearing on camera. Over the years, we've chuckled – or cringed – over the "I'm eating a cookie" clip or the candidate who repeats the same mantra to every question the reporter asks. Do a Google search of "stupid media interviews" and you'll find plenty to laugh about – or cry if one of the subjects happens to be your college president.
By now, you've held media training for your top college executives – all the way from avoiding flashy jewelry to being mindful of nervous mannerisms and upholding the need to be transparent and truthful. There is no substitute for giving the facts that can be made public and promising to follow up to the questions that cannot be answered right then.
Preparation is key.
We can't always be prepared to answer any and all questions the media may ask on the spot, but strategic planning can go a long way to avoiding becoming the next viral YouTube blooper sensation.
Here are some commonsense tips to avoid unwanted stardom:
Be strategic with your attire. During a crisis several years ago, our crisis communication team quickly prepped the spokesman on the main speaking points: What we know, what we don't know, how the college was cooperating with local law enforcement. Unfortunately, the message was second fiddle to the spokesman's unbuttoned, plaid flannel shirt that became the object of attention for viewers distracted by the attire. Coach your college spokespeople to have a suit jacket or other professional clothing at the ready for impromptu media interviews.
Rehearse, rehearse and rehearse again. There's a reason you remember dynamic interviews and presentations. Savvy leaders don't rely on a quick glance over their material before speaking. They read and revise talking points. They practice before a mirror to gauge their performance. They do a dry run with a trusted colleague for frank feedback. Their communication team has conducted media training sessions with mock interviews. The result is nearly flawless delivery.
Think fast. While this may seem contradictory to the previous tip, being able to address the media at a moment's notice is crucial. Coach your college spokespeople to know the organization's core mission, uphold transparency, tell it like it is within the constraints of the law, avoid saying "no comment" and refrain from pretending to know something they do not. Instead, coach them to acknowledge when they do not know an answer, promise to find out and then carry through on that promise.
Preparation is the key to confidence, even in the midst of fast-breaking events. If you do your job right, your college executives will instinctively know how to handle the media.
Linnie S. Carter, Ph.D., APR is vice president of college advancement at HACC, Central Pennsylvania's Community College, and executive director of the HACC Foundation.
M. Pamilla Saylor is the integrated marketing communications coordinator for media relations and special projects at HACC, Central Pennsylvania's Community College.