by Linnie S. Carter, Ph.D., APR
HACC, Central Pennsylvania's Community College
Harrisburg, PA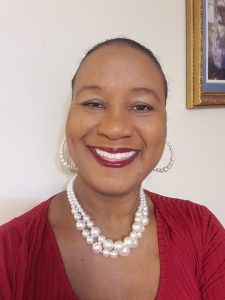 I'd like to direct you to NCMPR's DEI landing page, where I present an open letter to Black and Indigenous people and people of color. In it, I share a series of microaggressions and racist acts that I have or someone I know has personally experienced, as well as how we dealt with the situations.
I share the situations to offer solidarity and hope to people of color, and I do so to help NCMPR offer resources and support to its members who are Black, Indigenous or people of color. I also share these stories for NCMPR's white members. To start the journey to be an ally, they can read and understand stories of microaggression and racism; believe the people who are subjected to racial terrorism; and speak out against these acts.
Effectively navigating and addressing bigotry, racism and white supremacy can be exhausting and traumatic. So here, I want to talk about the mental health of Black and Indigenous people and people of color. Because we face these racial attacks regularly, we need to know how to survive with our mental health mostly intact.
Call out the behavior. When you are subjected to microaggressions and racial terrorism, address the behavior swiftly – preferably when it first happens. When you do not, the oppressors become emboldened and continue to target you. They go on to harass even more people.
Remove yourself from further harm. After you call out the behavior, remove yourself from the situation. Seek a safe and quiet place to ease your mind, cry, pray – whatever actions make you feel better.
Document the incident in writing and/or via video as soon as possible. Use email since it will automatically include dates and times. Record yourself on your phone or computer. Include your full name, date, time and relevant information in the video. Share the necessary documentation with your supervisor via email. Blind copy your personal email addresses on all emails. If your work email system is restrictive and you believe the messages to your personal email account may be blocked, print the emails and take photos of them with your personal cell phone. Save everything – emails, videos, pictures, etc. – to the cloud.
Tell the leadership team what outcomes you would like. If you want someone to be written up, removed from the board, terminated, etc., make that clear. Do not feel guilty when the bigot, racist and/or white supremacist is dealt with. Their punishment is not your problem – it is theirs. Every situation may not require a punishment. However, you have the right to ask for your desired outcome, even if your request is not honored. For me, if a person is genuinely sorry, apologizes appropriately and refrains from playing victim, I will show grace. If not, I seek the appropriate disciplinary actions.
Express your anger in a safe place with people who will not judge or stereotype you. Black and Indigenous people and people of color are often judged and policed for expressing anger. Anger is a normal emotion. Contact your biggest ally, someone who will give you the moral support you need, and allow them to comfort you.
Keep your résumé updated. If these microaggressions and attacks occur frequently and your supervisor and others are racelighting you, keep your career options open. Do not suffer in silence. There are many work environments where you would be treated well. You do not have to settle for mistreatment.
Seek legal counsel. There may be times when you may need to seek legal counsel. Consider all your options, and do what is best for your family. Once you seek legal counsel and your employer becomes aware, be prepared to leave. There will be an even bigger bullseye on your back. If you experience retaliation, document everything. Have your legal counsel pursue a financial settlement so you can resign, have money to care for your family and find another job in a better environment.
Seek therapy. Dealing with bigotry, racism and white supremacy constantly takes a toll on us. Seek a professional therapist or counselor to help you to work through your feelings. Use your employer's employee assistance program if you are comfortable doing so. If you do not trust the services offered by your employer, seek other cost-effective services.
Tell your story when you are comfortable doing so. I find that discussing these incidents with my close Black women friends makes me feel better. They can relate since they deal with the same microaggressions, including misogyny. Venting is a form of relief and self-care.
Affirm your excellence. You do not deserve to be subjected to bigotry, hatred, racism and white supremacy. You did not cause this horrible behavior. Shake off thoughts of inferiority. Shake off thoughts of imposter syndrome. Lean into your excellence – all of it. Part of the reason we are targeted is because the bigots, racists and white supremacists want to get inside our heads and convince us we are deficient. We are not. The fact of the matter is that bigots, racists and white supremacists are jealous of us. Keep stuntin' on 'em.
I see you. You are not alone. Take care of yourself, and again – lean into your excellence!
Sincerely YOURS,
Linnie Carter
Linnie S. Carter, Ph.D., APR, is the vice president of college advancement at HACC, Central Pennsylvania's Community College, and executive director of the HACC Foundation.