by Kyle Schwarm
Wisconsin Technical College System
Madison, WI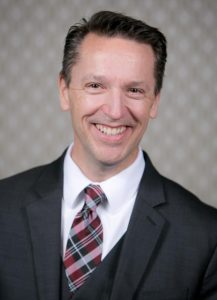 One of my favorite places is the Pacific Northwest, so when District 7 Director Janet Paulson informed me of this year's conference location, I was excited. The area has many great memories for me, including riding in the back of a pick-up truck through the Cascade Range (quite a view), camping in the Olympic National Forest, boating on Lake Couer d'Alene and hiking Mount Rainier. As routine as it may sound to the locals, any opportunity to catch a glimpse of Mount Rainier is exciting to me. Our highest elevation in Wisconsin is not quite 800 feet above sea level. Unfortunately, this is not the best time of year to get a view of Rainer, so I didn't have much hope it would happen.
When I arrived in Tacoma, I was amazed at how it had been redeveloped into a very dynamic city. Most of the members I chatted with were also impressed with how Tacoma had changed into a vibrant city in the shadow of the Emerald City. The Hotel Murano, which is the greenest hotel I've ever experienced, was our base for the "Through the Looking Glass" conference, held October 12-14. The hotel features incredible glass artwork throughout, including a featured artist with samples of his or her work on each floor. Our members who couldn't get enough of the glass art, ventured off to the Glass Museum, which has become a real attraction for Tacoma.
Things got underway with an informal "meet and greet" at the Harmon Brewery in Tacoma, where about 50 members took in some great conversation and networking. The District 7 members really showed some warm hospitality at the event. The establishment had more than good food and hops, but it was decorated with great artwork of Rainier, autographed by expert climbers like Peter Whitaker.
The professional development program was held at Clover Park Technical College. Conference Coordinator Shawn Jennison and the rest of the staff did a great job hosting us at their college. Clover Park President John Walstrom provided us with a warm welcome to start things off. I was impressed he emphasized the relevance of our NCMPR motto of connecting community college communicators in his address.
Our next speaker was Mitch Germann, vice-president of Edelman Digital in Seattle, with his session entitled, Movement of social brand to social business. Germann says organizations need a presence where customers are. He recommends we take advantage of faculty and staff as brand ambassadors. We can do this by establishing a social media model complete with guidelines, policies and examples of what can be tweeted and posted in online communities.
Next, Pam Cox-Otto of Interact Communications talked with us about The New Art and Science of Digital Persuasion. Pam says the old method of using three to five messages to persuade audiences is nearly dead.  Pam said it is much better to implement a digital model of three elements: motivation, ability and trigger. According to Pam, we need to use emotion to connect through pleasure/pain, hope/fear and acceptance/rejection and make it easy for prospects to enroll (ability). Pam said the ideal marketing focus is to combine a trigger and a motivator, e.g. You could have a new job, paying X, simply by registering at Y college.
I spoke to the group at lunch, but the real highlight was the brownies the Clover Park Technical College Culinary students prepared for us. These were the biggest brownies any of us had ever seen — larger than a dessert plate and very tasty!
After lunch, Pam resumed with an interesting session on the many "don'ts" in our daily routines.  Pam said as the AP Stylebook continues its slow death; we need to realize why that is. Communication is getting simpler, with fewer, less formal words. Pam said even paragraphs are becoming outdated (now I feel awkward writing this blog). In our messaging, she said to remember that emotion tops everything, so don't sell with facts and figures and make your headlines sing. She said we should be authentic, straightforward, clever and interesting.
Stacy Flores, public information officer for Tacoma Public Schools and Karen LaFlamme, public relations counsel for Forza Coffee Shops provided our final session of the afternoon on crisis communications. Each of the speakers shared very sad stories about meaningless shootings, one being at a school and the other at the coffee shop. The most important takeaways from this session was to make sure you have a crisis communication plan in place, understand you will have to respond to rumors and show regret immediately. Stacy also encouraged us to consider volunteering at other organizations that experience crises.
The afternoon ended with a shuttle ride back to the hotel and guess what?  There was just enough of a clearing to get a view of Mt. Rainier. What better way to end a day of great sessions?
The evening was capped with the Medallion Awards. Some of the big winners were Portland Community College, Oregon, Clackamas Community College, Oregon, Clover Park Technical College, Washington, Langara College, British Columbia and Tacoma Community College, Washington. Also, Dr. Preston Pulliams was announced as the Pacesetter of the Year for District 7. The Portland Community College president is known as a visionary CEO who has been an inspiration to both the college and the community.
Unfortunately, my schedule didn't allow me to stay for the Friday morning sessions, which looked interesting. Rusty George of Rusty George Creative presented on Branding: Setting Yourself Apart and Kathi Swanson of CLARUS Corporation was on hand for "Restructuring Marketing to Do More With Less". These are certainly two sessions we can all use and I'm sure they provided great takeaways for our members.
Nearly 75 members participated in the conference, which Janet Paulson said was the largest she can ever recall for the district. The warmth from the District 7 members made me feel right at home — something I appreciated very much. I want to thank those individuals who took the time to chat with me, including District 7 Director Janet Paulson, former NCMPR Board Members Margaret Bradford and Ron Paradis, Conference Coordinator Shawn Jennison, Hannah Feldman, Paulette Eickman, Ryan Brown, Nate Langstraat, Dale Stowell, Katherine Schiffner, Greg Harris, Amy Goings, Peg McNair, Patricia Paquette, Tamara Barry-Peebles, Judy Kitzman and Bentley Gilbert.
I believe the members who took a peek "Through the Looking Glass" would admit it was a great conference and well worth the time. Although I've had some great experiences in the Pacific Northwest, this one goes on my list as one of the best.
Kyle Schwarm is NCMPR President and is traveling to NCMPR's seven districts to attend each district conference.