by 
Kyle Schwarm
Wisconsin Technical College System
Madison, WI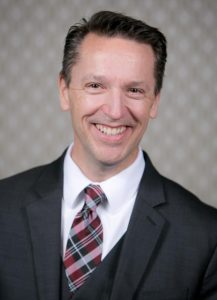 It's been an incredible experience visiting the various district conferences across the country to this point, but spending time with folks in my home district was extra special. It was great to be back with my District 3 colleagues, led by Director Mae Hanna of Ohio. District 3 rotates states that host the conference each year and the Michigan members, led by Michele Kersten-Hart, Oakland Community College, provided another great conference. This one was at the Detroit Marriott at the Renaissance Center, in the same set of towers as General Motor's offices with a nice view of Windsor, Ontario. Roughly 65 members participated in the "Get Down in Motown" conference October 24-26. The attendance was lighter than the district is used to, but the conference had a lot of soul.The conference began Monday night with a roll on the People Mover light rail system to Hockeytown Cafe, which ESPN rated the #2 sports bar in America. Our travel to the facility included a scavenger hunt and some views of "Occupy Detroit," Ford Field (where the Lions play), and the new Tiger Stadium, all near the cafe. Our entertainment for the evening was an iPad band from Schoolcraft College. The Synthesizer Ensemble used their iPads and electronic meter shirts to dazzle us. I had never seen anything quite like it, so cool.
Our opening keynote was a very humorous Jean Jennings, president and editor-in-chief of Automobile Magazine. This car lover said she learned how to drive at 14 and would date anyone who had a car. A college drop out and former cabbie, Jennings found herself as a Chrysler test driver and evaluator of vehicles. In 1985, she and the editor of Car and Driver magazine left to start Automobile Magazine. Her story included some valuable advice, which included the use of honesty. Jennings says PR spin does not cut it these days with social media. She said we should work to generate conversation, with the best kind being generated by others.
After the opening keynote, I ventured to one of several breakouts available. Unfortunately, I could only attend one. Mary Ann Fricker, education development executive with Apple, presented on the content for digital devices. She said there's been a growth explosion of using mobile devices for education. According to Fricker, 60 percent of community colleges have web apps for current students, which surprised me.
It was fun addressing the group during lunch, talking about the value NCMPR provides and the strategic directions of the Board. Next, it was a clean sweep for the State of Illinois in the Pacesetter and Communicator of the Year Awards. First, Jennifer Stoner, executive director of Communications and Marketing at Prairie State College, received the Communicator of the Year Award. Stoner, who has worked all over in marketing, said her best gig has been in community college marketing and college faculty and staff need to understand that the corporate marketing model works for community colleges. Dr. David Sam, president of Elgin Community College, was the Pacesetter of the Year for District 3. Dr. Sam, who was able to get a $178 million capital college referendum passed n the midst of an intense recession, said he believes strongly in the use of marketing to share our stories.
Next, I sat in on Mark W. Smith's Social Media 101 breakout session. Smith is the web editor and technology columnist for the Detroit Free Press. Surprisingly, Smith said the importance of the brand is lessening as we move forward with social media. Smith said people follow other people, not so much brands. To benefit, he said we need to have brand ambassadors on the web. The key to success is to be uniquely located on the web and engaged where the discussions are happening.
I enjoyed Smith's session so much, I sat in on his Social Media 201 session, where he stated our goal should be to move beyond search engine optimization (SEO) and move more toward social media optimization. Smith said we should work for organic discussion about us. For instance, when we craft our content updates and messaging to share good news, we should invite people to share it or like it. Smith spent some time discussing Google+. While he likes how it emulates features from both Facebook and Twitter, he said the platform is at a crossroads waiting for users to show up.
The facility for Medallions Tuesday evening may have been the nicest venue our district has had for the awards. The 42 Degrees North room, is the former lounge of the hotel with a beautiful view of the water and skyline of Windsor. It was decorated beautifully with vinyl Motown LPs and musical note confetti on our tables – a great setting to recognize accomplishments. The big winners of the evening were Cuyahoga Community College, Ohio, Washtenaw Community College, Michigan, Columbus State Community College, Ohio, and various locations of Ivy Tech Community College, Indiana.
Wednesday morning began with another round or breakout sessions. Nicole Finkbeiner, Kellogg Community College, Michigan, did a great job examining the role the Broken Windows Theory plays in effective marketing. The theory, based on social norms in a given situation, posits that signs of disorder, such as run-down facilities, can signal things aren't well and create insecurities with customers, which should be part of our communication and marketing efforts.
The conference wrapped up with a keynote by two individuals making a difference through their work at General Motors. Jocelyn Allen works in Regional Grassroots and Diversity Communications at General Motors and Ayana Jordan, Chevrolet Diversity Advertising Manager, shared how it makes good business sense to invest in diversity programs. The room was all ears as the two shared a number of unique undertakings, such as an on-campus program that really created a buzz about their vehicles and an incredibly emotional video on inspiring hope for LGBT youth facing harassment and bullying from their peers. The major takeaway from the presentation was to bring yourself to work to advance your brand. If you meld with everyone else, you are not doing your brand or your audience justice.
Bring yourselves to work. Be who you are at work. These things are important if you are to advance the brand. If you meld with everyone else, you are not really doing it justice.
Talking diversity with employees of General Motors in Motown was a very appropriate way to end the conference and, of course, the traditional door prizes, which provided many smiles.
There's an old joke about Detroit, which asks, "Do you know what the temperature is in Motown? Three Degrees, Four Tops." Get it? Our weather was actually very seasonal in Motown and our members were the usual "sunny and warm." I want to thank everyone who spent some quality time with me in Motown, including Mae Hanna, Michele Kersten-Hart, Suzanne May, Michelle O'Dell, Amanda Potts, Ed Quinones, Diane Rarick, Lucian Leone, David Wayne, Lynn Whalen, Eleanor Shelton, Jennifer Stoner, Marty Heator, Shelly Strautz-Springborn, Mark Van Horn, Bill Gaither, Tarona Guy, Jeff Jullian, Janet Hawkins, Kristin Carrera, Meredith Delaney, Ellen Hotchberg, Dotty Karkheck, Nicole Finkbeiner, Robin DeMott and Jessica Crotty. You all made me feel at home and very proud to be from District 3. You guys rock!
Kyle Schwarm is NCMPR President and is traveling to NCMPR's seven districts to attend each district conference.