by Jaclyn Y. Garver
Ivy Tech Community College Northeast
Fort Wayne, IN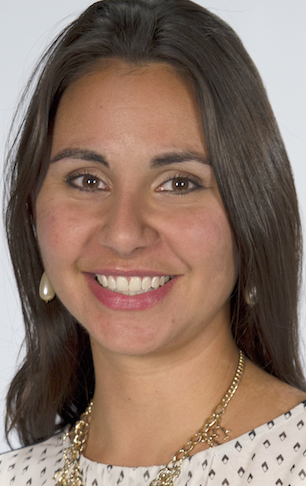 Last fall, the marketing staff at Ivy Tech Community College Northeast lost its collective mind: After putting on the college's largest annual fundraiser (we raised more than $100,000, which is still making us say WOAH), we hosted District 3's NCMPR conference less than two weeks later.
It took about a month for our eyes to uncross.
But we did it, and we did each successfully. While I can attribute that success to a number of factors, I'd say the biggest factor, hands down, is the fact that we have an event planner on staff. Aja Michael-Keller, the college's director of events, enrichment and conferencing, is masterful in her planning, creativity, and ability to juggle and delegate.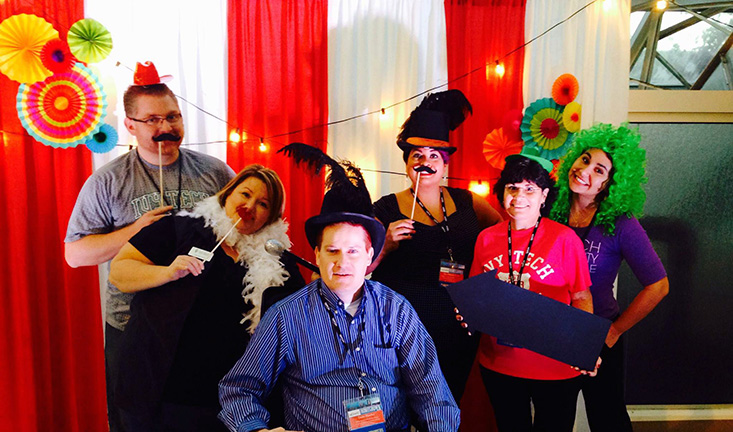 For the District 3 fall conference welcome reception, Aja Michael-Keller (center with moustache) planned a grown-up, carnival-themed party at the local botanical conservatory. This is our staff, and that's me on the right with the green wig. We're a very serious bunch!)
Not every marketing staff has the resources for an event coordinator, so Michael-Keller shared with me some mistakes to avoid when planning your next event, big or small.
1. Assuming others are taking care of the to-do list. Even if you've delegated the task, you can't make that assumption. Check in with your people.
2. Not allowing enough time for planning. If you wait until the last moment to book rentals, figure out guest lists, send invitations and more, the event is going to seem disorganized. A small-scale event with a built-in or easy-access audience takes a solid two months to put on. If you're talking something larger, a gala or fundraiser or signature event, it can take four months to a year to plan.
3. Underestimating cost or not identifying a funding source.
4. Neglecting to involve others on campus who need to know what's going on, like facilities (to book the room and make sure it's set up correctly) or media services (if you need any special lighting or photography).
5. Misidentifying your audience. Promoting to the masses never yields a good return. Target events to a specific group of people (donors, prospective students in high school, welding professionals). If you can't figure out your audience or don't have a way to connect with those audience members, then skip the event until you can.
6. Not accepting RSVPs. That's the only way you can accurately plan for food and space.
7. Skimping on the ambiance. If you have to cut corners for a budget, the add-ons like lighting and décor can seem like the easy thing to cut. These should be the last things you cut—this is what guests will remember. It's the difference between choosing, for example, a cheap folding chair and a nicer chair. If you choose the latter, guests are comfortable, they may sit longer, mingle, and have a better experience.
What tips do you have for folks to avoid when planning their events?
Jaclyn Y. Garver is the media relations and communications coordinator for the Northeast campus of Ivy Tech Community College in Fort Wayne, Indiana.