by Ellen Davis
Temple College
Temple, TX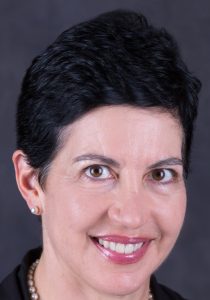 When our college rolled out a new logo last year, many things needed to be changed – including our faculty/staff nametags. I attended a meeting with our president's cabinet to get feedback on what they were looking for in a new nametag. Many different questions came up:
Should the nametags have first and last name or just first name? (Some faculty and staff members had recently attended a training session presented by Disney, which only uses first names on its nametags). Should the nametags include titles and/or department names? What size should the nametags be? What color should they be?
We went through several different design options.



We'd just about settled on one when a staff member from a neighboring college walked into our office wearing a nametag that we really liked. We took a picture of it and asked our design firm to create a similar nametag for us.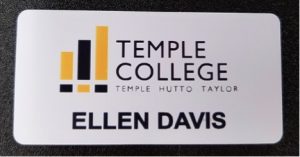 This proved to be the winning design. I picked up the first batch of new nametags and everyone seems to really like them.

Ellen Davis is director of marketing and media relations at Temple College in Temple, Texas. She has more than 30 years experience in various aspects of college marketing, including publications, media relations, social media and website development.