by Jeff Ebbing
Southeastern Community College
West Burlington, IA
Oh, hey.
Jeff again with another installment of my magical mystery Tour de NCMPR.
The second leg of my tour continued up the 405 from San Diego to Vancouver, Washington for District 7's "Ride the Creative Flow."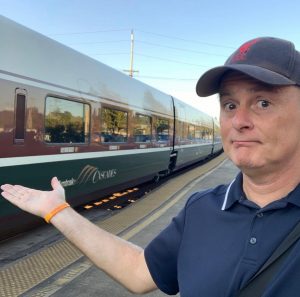 Unique to my cross-country travel for this stop: not one, but two trains! After enjoying breathtaking aerial views of the Cascade Range as I flew into Seattle, I hopped the light rail into the city and then caught the Amtrak for a 3-hour rail trip down the valley into Vancouver. What a treat. With all the modes of transportation covered, Del Griffith ain't got nothin' on me!
District Director Marisa Pierce and her team rocked it and delivered a solid conference with cool presos, awesome keynotes, and a great social outing (you had me at "taco bar"). And of the 40+ attendees, nearly 20% went by the name, Matt. So many so that everyone agreed to unofficially rename the conference, #mattcon.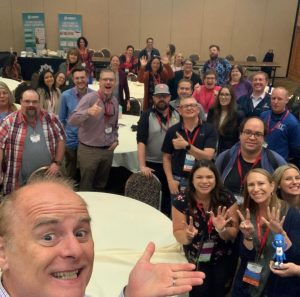 Although nearby forest fires shrouded the beautiful mountain vistas, NCMPR stars were shining brightly on stage each day.
The Pacesetter winner was Dr. Lisa Skari from Mt. Hood Community College. As one of the few college presidents who's done time in the marketing department during her career, not only is she keenly aware of the value we marcomms people bring to the table, she was an active NCMPR'er herself. It's soo cool to see one of our own rise to the top.
Later, the team at Lane Community College shared the backstory of their Gold Medallion-winning publication, The Bleed.  Talk about a work of art! Each edition of this student-produced publication contained dozens of original design spreads and articles that looked like they were ripped right out of the latest Communication Arts. Tre' magnific!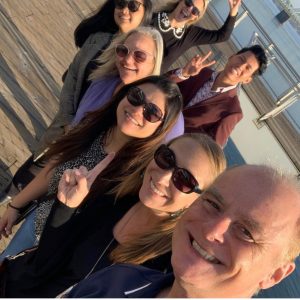 And while not on the official agenda, I gotta give a shout-out to the motley crew of D7'ers who made the trek with me across the bridge into Portland for a visit to the second-oldest tiki lounge in the country, the Alibi. There's nothing quite like after-hours teambuilding exercises amid a sea of colorful plastic tiki statues, thatched walls, and tropical cocktails. You are my people!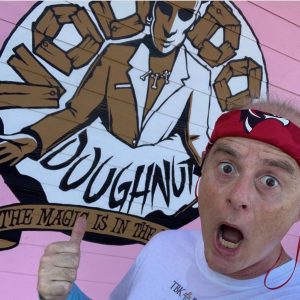 I managed to sneak in a few morning runs. They did not disappoint. One morning, moments after emerging from a native timber forest, I stumbled across a Portland area institution, Voodoo Donuts! Suffice to say that I paused my watch while I stood in line for a "Memphis Mafia" fritter. It. Was. Sublime. Pretty sure that I actually GAINED weight on that run.
I even squeezed in an off day with NCMPR Executive Director James Walters as he showed me his old stomping grounds (now in the very capable hands of Marisa Pierce) with a whirlwind tour of Skagit Valley Community College. It was cool to see another college campus. I may or may not be planning to steal a few signage ideas when I get home. Shhh!
Thanks to D7 for your hospitality and energy. I left totally feeling the Pacific Northwest vibe after my time in the 'Couve.
Wanna see some of that D7 amazingness? Check out my Instagram at @jeff_ebbing or #ncmprfancy.
Where to next? The livin' large in the Lone Star State.
Jeff Ebbing is the director of marketing and communications at Southeastern Community College in West Burlington, Iowa, and the president of NCMPR.