by Jeff Ebbing
Southeastern Community College
West Burlington, IA
After a month of jet-setting across the country on my Tour de NCMPR, I finally made it to the end of the yellow brick road for the District 2 conference in beautiful St. Pete Beach, Florida.
And like they say, location-location-location. What a place to wrap my adventures!
NCMPR District Director Jackie Watson and her team called in some serious favors with Mother Nature to deliver the most amazing weather of the entire conference circuit. October doesn't get any better than sunshine and 80 degrees in Florida! The pre-dawn runs on the white sand beach were a super-treat for this Midwesterner and the sunsets were literally breathtaking. *chef's kiss*
In yet another NCMPR conference first, I attended a luau-themed Medallion dinner. The roasted suckling pig dinner spread was almost as amazing as the award-winning work. Lucky for me I packed my favorite tiki shirt.
And the sessions! Top-notch.
"Get With the Program" panelists Teri Bryson from Motlow State Community College in Tennessee, and Sharika Attipoe from Calhoun Community College in Alabama shared some amazing tips on running a marketing office when your CTE faculty keep pushing you to market their program. Don't say no. Invite them to your office for a "discovery session" to diagnose their real issue and come up with a workable plan.
NCMPR Leadership Institute alum David Barnhart – AKA the "WOO Guy" – reminded everybody that if you treat people well, they'll do your marketing for you. He then promptly tossed out candy bars. Who doesn't like good advice wrapped in chocolate?
And just when I thought D2's beach edition of the obligatory NCMPR conference after-hours firepit group therapy session couldn't get any better, I somehow found myself with my new D2 friends in a conga line that may or may not have crashed a wedding reception at the hotel. I felt like Owen Wilson. Or was it Vince Vaughn? Or maybe Gloria Estefan. Regardless, it was a night to remember. Oh, and congratulations, Lyndsey. Your gown was beautiful!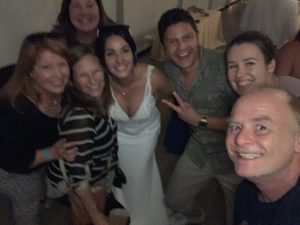 In the midst of the busy conference schedule, I did manage to conduct some very official NCMPR presidential duties – while lounging on the beach. I kept "forgetting" to mute and so I subjected the other Zoom attendees to the sound of crashing waves and screeching seagulls. I mean, if I didn't mind, they probably didn't either. Right?
Wanna catch a few glimpses of my time in St. Pete? Fire up Instagram and search #ncmprfancy or @jeff_ebbing. They're pretty great.
Thanks, D2 for the memories, your beach party was one for the record books.
It is my sincere hope that through these six posts from the field, I gave you a big bite of the deliciousness that is the NCMPR conference experience.
I walk away from my tour invigorated by the amazing work manifested in the creative problem-solving to the challenges we all face, the welcoming hospitality of friends old and new, and the close camaraderie of this group of community college marketers. You are my people, and I am so honored and humbled to lead this group.
Our profession may have brought us together by chance. Our friendship will keep us together by choice.
All the love and all the respect,
Jeff