by Sally Cameron
Bristol Community College
Fall River, MA
On to conference No. 2. District 6 in the lovely city of Santa Barbara, California. The hotel overlooks a beach that goes for miles; the mountains tower just behind. The laid-back California vibe contrasts with the beefy, mind-stretching selection of programs put together by District Director Amber Chiang.
(Ever have your president come to your office with a good idea, a beautiful publication, a robust web link, and ask, "Why aren't we doing this" Unfortunately for the Magicmakers of Bristol CC, they have heard this from me a number of times already. I have gotten so many great ideas from the district conferences! But I digress.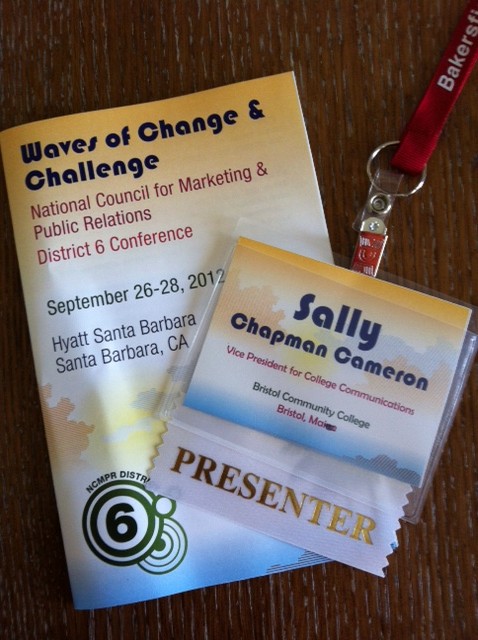 Stop one on the program for the D6 conference was actually part two of a presentation by Cheryl Broom of MiraCosta College on branding (she gave the first part in San Francisco at the 2012 national conference). Last March, Cheryl described the process of determining MiraCosta's brand platform. In Santa Barbara, she gave the follow-up, teaming up with a faculty member to discuss WHY branding is so important and HOW to help others on campus understand the value of branding.  The faculty member gave a Branding 101 presentation to show the WHY, followed by Cheryl who shared the various style guides and services to show the HOW. And it finished with Ben & Jerry's ice cream. (Talk about a carrot!)
(In my own college, we have been struggling with these same issues. When we produce targeted and effective tactics upon request, why do so many at our college persist in using MS Publisher to create their own purple-paper-with-red-ink-when-the-college-palette-is-green fliers? Good idea: Convince IT not to install Publisher on ANY computer. But I digress, again.)
Cheryl's point was that our non-communicator colleagues don't understand the value of branding, and it is our job to show them. These workshops taught what Cheryl called "the product of a thousand small gestures" in creating a brand experience, and pointed us to www.miracosta.edu/brandingguide for details.
Another energizing workshop was "Fifty Shades of Your CEO,"in which Dr. Helen Benjamin, chancellor of Contra Costa Community College District (and D6's Pacesetter of the Year), teamed up with Tim Leong, district director of communications and community relations, to discuss what makes a good and bad relationship with your CEO. One takeaway? Don't let your CEO ever be surprised. It's never a good thing.
"Hit Me With Your Best Shot," led by Erin Sealey from Santa Barbara City College, gave pointers – particularly for novices who are called upon to grab-and-go with a camera – on how to plan shots without plants coming out of the back of people's heads and other scene-wreckers. And a student from Dixie State College of Utah, Bryan Poulsen, gave an overview of social media from the student's perspective. I learned about channels I never heard of before, and the importance of tailoring messages to specific channels. (Put that on the list, Magicmakers!)
The conference ended with a parade of magic in the district Medallions. Really great stuff was showcased against the gentle backdrop of waves and barking seals.
This was a jam-packed, robust learning opportunity. Since I haven't mastered omnipresence, there was so much I couldn't take in! Fortunately, Amber is giving us all access to the materials. And a special thanks to Cris Monahan Brehmer from Fresno City College, who gave me a full, tied-with-a-bow timeline for creating her 100-year commemorative anniversary book, which I promptly gave to a faculty member at my college who is working with me to create a 50th-anniversary book.
I left Santa Barbara with piles of papers and was overwhelmed by the generosity of NCMPR members. In what other industry do people freely share their best ideas?
Next I'm lifting off to Little Rock for the District 4 conference.