by Jaclyn Y. Garver
Ivy Tech Community College Northeast
Fort Wayne, IN
Any time a bigwig at my college discusses Ivy Tech Northeast in the community, the idea of "partnerships" inevitably comes up—partnerships with other schools to transfer credits, with businesses to help train their employees.
One of my favorite partnerships is with, of all places, Citilink, the public transportation company in Fort Wayne, Indiana. The reason for that is Bus Stuff, a yearly fundraiser held with various other organizations. The goal is to collect nonperishable goods for the local food bank.
We've been involved with Bus Stuff for years, but we only just started to collect—really collect—food. Oh sure, we've always collected food, as that's the whole point of Bus Stuff. But last year, the items that came in completely skyrocketed, and I think we beat those numbers this year.
The reason? Emails.
I don't need to tout email communication to a bunch of marketers: They're simple, they're free, they reach a big audience. I don't know about you, but for me, it can feel like I'm sending all these emails to deaf ears; it's not often I see such a big, such an immediate response from email communication.
Last year's Bus Stuff communication plan was so successful, I followed a similar plan this year, and it is super easy: an email the Saturday before Bus Stuff kicks off; a text message to our text subscribers that Tuesday; and a final email that Thursday. Bus Stuff finished up Friday, and our front office looks like this: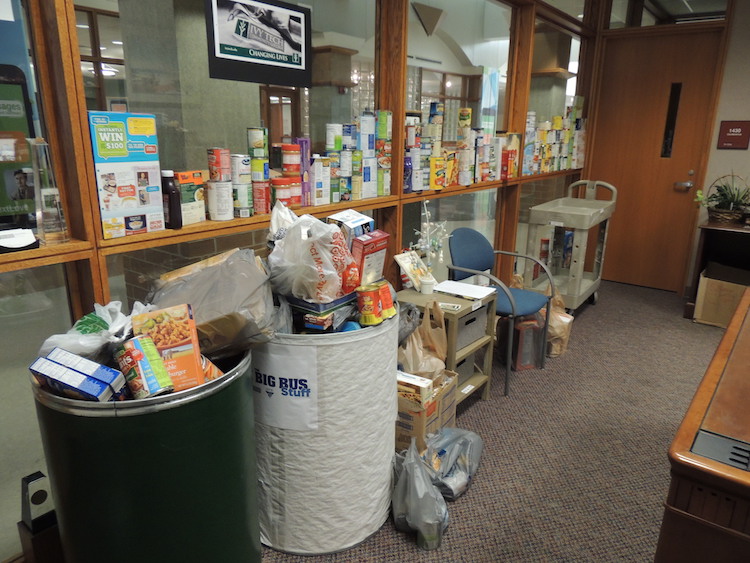 There's food all along the windowsill, and we have two huge barrels overflowing with food, plus boxes and plastic bags nestled among the chairs and a small table.
All from two little emails and a text message.
This is all to say: Don't feel frustrated when it seems like no one is reading your messages. They're reading. There may not always be such obvious proof as towers of canned food, but it's happening.
Jaclyn Y. Garver is the media relations and communications coordinator for the Northeast campus of Ivy Tech Community College in Fort Wayne, Indiana.