by Heather McDorman
St. Charles Community College
Cottleville, MO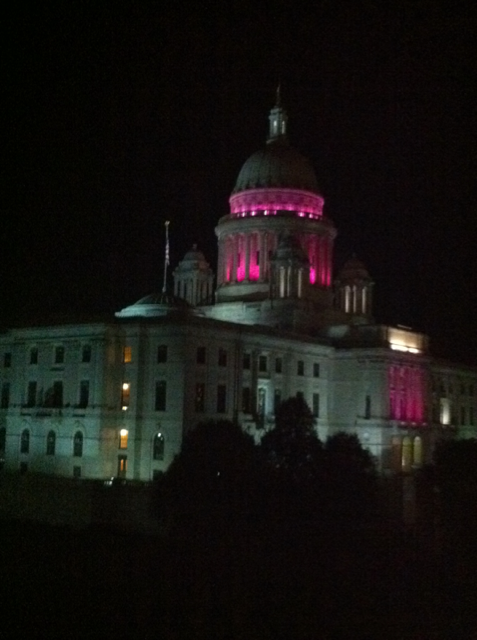 Arriving in tranquil Providence on a late October evening, I was so excited to be attending District 1. In addition the rich history associated with my destination, the district itself has a rich history within NCMPR.
Currently, there are four members on the NCMPR Board … Ron Taber, District 1 Director; Kathy Corbalis, Director-at-Large; Sally Chapman-Cameron, Board Secretary; and Judi Sciple, Immediate Past President. Among the D1 membership are many more who have served in leadership roles in the past.
Knowing this, I looked at D1's history as a double-edged sword. On one hand, it's great to visit a place where you have so many friends and colleagues.  They welcome you, show you around and make you feel special. What could be the downside? Well, as a person who really respects the aforementioned people and who may not be as confident about public speaking, the prospect of addressing them (and 110+ of their closest friends) was a bit daunting.
When all was said and done, it was our personal history … years of work and play … that made this daunting take more than bearable. 🙂
A Sunday trolley tour brought the city of Providence to life, including great neighborhoods, the Capitol (pictured, lit up in pink in support of Breast Cancer Awareness Month), Brown University, and more. Dinner at Cafe Nuovo was tasty, elegant and provided time to get to know District 1 members (plus, the creme brulee was incredible).
On the business Monday! Following the transformation of the Hasbro brand, breakout sessions and roundtables featured topics like internal communication, social media, college catalog, brand messaging, website redesign and more.
I absorbed a lot of info on Monday, but a highlight was watching the women at Community College of Baltimore County explain "360° Perspective on Communication." It's not the first breakout I've attended led by CCBC. They are a progressive, hardworking group who do a great job at putting together comprehensive communication campaigns. I walked away inspired and I'm sure others did, as well.
A few hours of free time allowed me to catch up with my home base at St. Charles Community College and to prep for the much-anticipated Medallion Awards Dinner. Talk about inspiration, it was in abundance at the D1 awards. Kudos to Nichole Carter and Janice O'Connor, Medallion Co-Chairs.
Following my address (which, again, I was needlessly worried about), were a couple more breakout sessions and an enlightening general session about branding by the University of Rhode Island (love their tagline). First-year Director Ron Taber did a great job, along with his conference coordinators Julie Novak, Ernie Greenslade and Sally Chapman-Cameron. They produced a professional conference filled with great information, opportunity for networking, and time for fun.

A random note: Many districts took me up on the idea of a Twitter competition … where participants would tweet throughout the conference about interesting facts they were taking away from the sessions and include their district hashtag, e.g. #NCMPR District 1 came through in a major way! There were 13 "tweeters" at the conference, three who were tweeting from other parts of the country … even the hotel re-tweeted one of our posts!  The winner of a Starbuck's gift card? Christine Barrett from Berkshire Community College with 83+ tweets (out of more than 200+ total tweets).