by Jaclyn Y. Garver
NCMPR Administrative Services Coordinator
Fort Wayne, IN
No matter how a person or college talks about the coronavirus – whether we're lamenting lost family vacations or graduation celebrations – there tends to be a detail of hope.
As we figure out new ways to achieve our goals, it seems we're often met with a detail or two that turned out even better than we could have hoped. I asked NCMPR membership to share some of their favorite, unexpected silver linings of the coronavirus. Their answers stretch across their colleges, the community and even toward home.
At Work
For Eve Markman, it's been about the teamwork that developed around social media posts. The Community College of Philadelphia now sets up different channels via Microsoft Teams, and her team has been sharing ideas, comments and graphics.
"We have found that we are collaborating more and being even more creative," says Markman, director of creative services. "We are breaking down the barriers within our own department and providing ideas for projects that maybe we wouldn't have been involved in when we were in the office. The collaboration has been amazing."
In addition, the college created a social media task force when the dedicated employee left. The group meets weekly to discuss ideas and the social media editorial calendar. In April and May, the college
Increased views on social by 460%.
Gained 147 new Facebook followers and 20 new Instagram followers.
Received 825 views on its top video post.
For Jay Scherder's team members at St. Charles Community College in Missouri, it's been about recognizing traits the team was unaware of or didn't use often.
The college's graphic designers – including one hired just a week before going remote – put special value on communication, especially since Scherder can't just walk in their offices anymore. Plus the marketing assistant has been able to step up, using her writing skills for the first time, and the web specialist has leaned more on his coding background to solve website issues.
"I think this crisis has shown us that we are more resilient than we often think," says Scherder, St. Charles's director of marketing and communications. "This pandemic pushed us into a corner very quickly, as we had two choices: rise up or fall."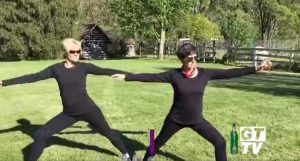 One of the brightest silver linings at Southeastern Community College in Iowa has been its Great Tastes fundraiser, says Jeff Ebbing, the college's director of marketing and communications. The traditionally high-end dinner became Great Tastes TV, a week-long virtual event. It included 30-minute live demonstrations, local chef interviews, golf coach putting lessons, rustic raku pottery and a wine tasting/yoga lesson combo.
"I can't say we raised tons more money, but it definitely softened our losses and brought some levity into people's nightly social feeds," Ebbing says.
In the Community
At Santa Fe Community College in New Mexico, it's about giving back. Their culinary kitchens partnered with World Central Kitchen to give free meals to the community, says Todd Lovato, the college's executive director of marketing and public relations. To date, the program has passed out more than 20,000 meals.
World Central Kitchen, led by chef and humanitarian José Andrés, is a nationwide nonprofit to feed those in need. Santa Fe's kitchen is the first at a community college and the first in the American southwest.
At Home
There's also been the benefit of being with family.
"It has been wonderful (usually) spending more time with my toddler and infant every day," says Scherder. "I also get to spend time with my wife, who is also working from home."
Jaclyn Y. Garver is the administrative services coordinator at NCMPR and the former communications coordinator at Ivy Tech Community College in Fort Wayne, Indiana.