by Linnie S. Carter, Ph.D., APR and M. Pamilla Saylor
HACC, Central Pennsylvania's Community College
Harrisburg, PA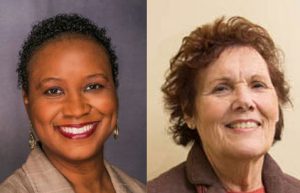 "Make hay while the sun shines," a 16th-century English proverb, is good advice for today's marketing communication professionals in higher education.
According to The Phrase Finder and other sources, the proverb first related to farmers in Tudor England who had only a short time to reap hay before bad weather set in. Like many proverbs, however, the phrase soon extended to life in general with the meaning "to make the most of one's opportunities while you have the chance."
The Office of College Advancement (OCA) team at HACC, Central Pennsylvania's Community College, did just that in 2017 when they realized a bike ride and a swim across the English Channel had plenty in common. Both were newsworthy events, both involved strong advocates for the college, both presented a way to raise much-needed funds to help students with unexpected financial emergencies – and both participants gave an enthusiastic "HACC Yeah!" to the idea.
OCA's fundraising and integrated marketing communication teams worked with HACC President John J. "Ski" Sygielski, Ed.D., a marathon biker, and Louise Hyder-Darlington, a cataloging specialist at HACC and long-distance swimmer, to plan and execute crowdfunding campaigns. The goal: Raise funds for the HACC Foundation's Emergency Assistance Funds that assist HACC students who face financial emergencies to achieve their education goals by helping to cover a portion of an unexpected expense related to a crisis.
Dr. Ski, dubbed the "655-mile-man" by Community College Daily, set out May 26, 2017, on his annual marathon biking vacation that took him from New Orleans to Nashville, much of it along the Natchez Trace Parkway. The initial goal of $1,500 was reached before the six-day journey began, so it was doubled to $3,000. By the end of the ride, the #TourDeDrSki raised $4,450. Hyder-Darlington's journey took place Aug. 1, 2017, as she and five other members of her "Channeling Greatness" team experienced first hand the challenge of completing the "Mount Everest" of open water swims across the English Channel. Hyder-Darlington's campaign raised $2,113.
Not only were the campaigns successful in raising a total of $6,563, they also created a media buzz and gained favorable recognition of HACC. As a result of these two campaigns, the OCA team has reached out to other HACC advocates to combine their passions with fundraising goals to benefit the college and its students in 2018.
Linnie S. Carter, Ph.D., APR is vice president of college advancement at HACC, Central Pennsylvania's Community College, and executive director of the HACC Foundation.
M. Pamilla Saylor is the integrated marketing communications coordinator for media relations and special projects at HACC, Central Pennsylvania's Community College.