by Michele Kersten-Hart
Oakland Community College
Bloomfield Hills, WI

With the theme "Homegrown Talent," I didn't know what to expect from this year's District 3 conference, but "Homegrown Talent" is exactly what I got. I left the Detroit area around noon, and my drive to Fort Wayne took just about three hours. I arrived earlier than expected, so I contacted Kayte Hamel, our district director, to see if I could attend the pre-conference intensive at Sweetwater. I was in luck; there was room for one more.
Sweetwater is one of the United States' largest dealers in equipment for musicians, recording studios, schools, churches, concert sound companies and broadcasters. The company was founded in 1979 by Charles J. Surack, who created a mobile four-track recording studio in a Volkswagen bus and then grew the company into a 430,000-square-foot campus by 2015. Talk about homegrown success!
The company's mission statement is "Always do the right thing." Their secret to success is in relationship building and customer service. That, and the fact that Surack only hires the best.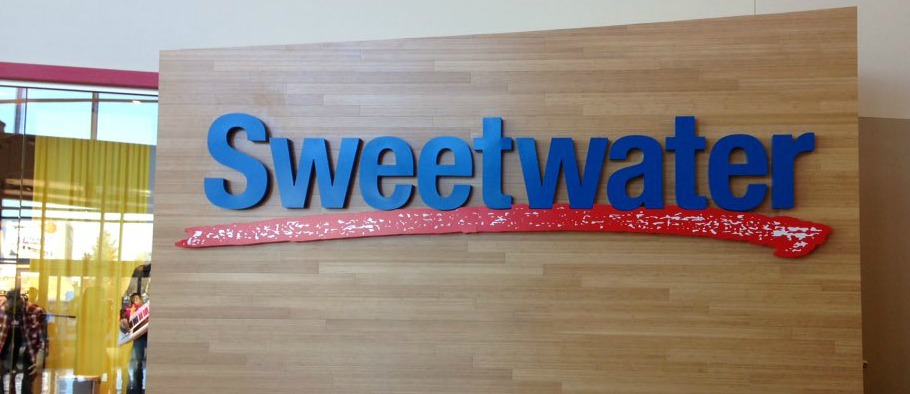 Sweetwater is for the most part an online business with one retail store. Our tour guide, Vice President for Corporate Communications Chris Guerin, said the company's marketing efforts focus on Google and SEO, trade magazine advertising, and developing excellent relationships with the media. As he put it, "Public relations is the art of getting others to say nice things about you, and marketing is about you spending money to say nice things about you."
The tour of their facilities was truly impressive. Built with LEED (Leadership in Energy and Environmental Design) certification, it seems as though they thought of everything – meeting spaces, cafés, a coffee shop, salon and spa, gym with a personal trainer, video rental for employees, and a music school that provides music lessons to students aged 3 to 93.
How does Sweetwater give back to the community? The company donates meeting space to nonprofits for fundraising and galas; it donates over $2 million in products each year; and it sponsors music events, including the philharmonic. This is a business whose focus is not just on excellent customer service, but also on the community and its employees. It was a reminder of the importance of customers, both internal and external.
The opening night welcome reception was held at the Foelliger-Freimann Botanical Conservatory and featured an old-fashioned street fair. There were games, a juggler, a magician and all of the street-fair food you could possibly ask for, including peanuts and popcorn. Oh, and did I mention a tarot card reader who told me there's a St. Louis conference in my future? (NCMPR's 2016 national conference is in St. Louis.)
Day two began with an opening keynote, "Make Your Job Easier by Letting Research Drive Your Strategy," by Molly Jackson of SimpsonScarborough. Jackson discussed the importance of market research and how qualitative and quantitative research among internal and external stakeholders can help you make informed decisions with confidence. She shared several case studies from both four-year universities and community colleges.
The rest of the day was filled with breakout sessions on topics we're challenged with every day, including public relations, digital media, recruitment/outreach and strategic marketing. The awards luncheon began at noon and was a true delight as we watched our peers get recognized for their talent and hard work. District 3's Pacesetter of the Year was awarded to Dr. H. Jeffrey Rafn of Northeast Technical College; Communicator of the Year was awarded to Patty Lehn of Parkland College; and the Rising Star was awarded to Jaclyn Garver of Ivy Tech Community College.
The Medallion Award ceremony was held that evening at Parkview Field, home of the Fort Wayne TinCaps. With a beautiful view of the field, and with a Homegrown comedian presenting the awards, the evening was exciting and funny, all rolled into one. After the awards ceremony, we gathered in the courtyard for a s'moresfest (and might I say, "Oh My Yummy!").
Friday's closing keynote on "The Power of Partnerships" was presented by Courtney Tritch, vice president of marketing for the Northeast Indiana Regional Partnership. Tritch asked us to think about whether we're actively engaging in all of the partnerships in the community that we can. Using case studies and past marketing campaigns, she shared how partnerships with business, community organizations and the media can put your college in the fast lane to go further, faster.
The conference ended with roundtables and a final breakout session. We were sent on our way with a "thank-you lunch" and encouraged to go back to our colleges and share the wealth of knowledge learned over the past few days.
Michele Kersten-Hart with NCMPR friend and colleague Dotty Karkheck (Jackson College, MI)
Indeed, this was an outstanding professional development opportunity in terms of the sessions, speakers and the chance to meet new colleagues and friends. This is what makes NCMPR so special – it's an amazing organization, and I'm glad to be part of it!
Michele Kersten-Hart serves on the NCMPR board as treasurer and is the manager of multimedia and Web services at Oakland Community College in Auburn Hills, Michigan.