by Linnie S. Carter, Ph.D., APR and Natasha Walton, MBA
HACC, Central Pennsylvania's Community College
Harrisburg, PA
Sponsorship opportunities are a great way for businesses and other organizations to gain exposure, promote their organization, increase their brand awareness, promote their commitment to education and maximize and stretch their marketing dollars.
We developed the following model that can be replicated at any community college.
Step 1: Leveraging Existing Events
The key to a successful sponsorship program is leveraging existing college events. In collaboration with Cabinet members, we developed a matrix of existing college events that would be used to secure sponsorships. Since the events were already planned, sponsorships did not underwrite the cost of the events, which allowed all sponsorship dollars to go directly to support HACC's fundraising campaign goals.
To view our matrix, please visit www.hacc.edu/sponsorships.
Step 2: Developing the Benefit Levels
To ensure we could fulfill our promise to the sponsors, we developed consistent sponsorship benefits and levels. The sponsorship benefits and levels are designed to give sponsors more options to fit their needs and streamline our sponsorship program. The consistent benefits ensure sponsors are receiving the same benefit for events, and the consistent levels ensure the events are offering appropriate benefits that correlated to the sponsorship dollar amounts.
Step 3: Developing the Communication Strategy
Knowing your donors and target audiences is key to a successful sponsorship solicitation. We did not get this right the first time around. We used a sponsorship template to donors hoping that we receive at least one response. This past year, we developed a communications strategy where we tailored our solicitation to fit the organizations' needs.
For example, we developed a sponsorship solicitation strategy to target four-year colleges and universities in our region. We knew that a large number of our graduating students would be transferring to four-year schools. Therefore, we invited the four-year schools to sponsor only preselected events such as the nursing pinning ceremonies.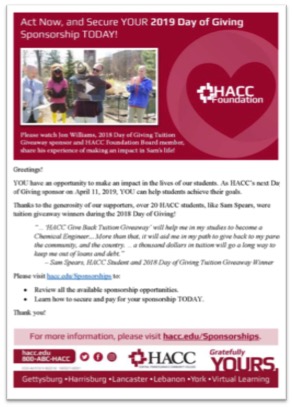 For HACC's 2019 Day of Giving sponsorships, we incorporated storytelling and video into our email blasts. HACC's Day of Giving is a one-day event that brings the entire HACC community together to celebrate and raise money for our students.
Over 20 organizations sponsored HACC's 2018 Day of Giving, several of which were tuition giveaway sponsors. During the Day of Giving, tuition giveaway sponsors presented a $1,000 voucher to a HACC student on the spot. Students had to be present to win the tuition giveaway, which allowed sponsors to present the voucher to the winning student. The winning students then complete and submit the vouchers to the HACC Foundation so that the $1,000 can be applied to their tuition and/or books.
We captured on video the moment when one of our sponsors presented his $1,000 voucher to a HACC student. Students who received the tuition giveaway were required to write thank-you letters to our donors. With the video and student testimonials (from their thank-you letters), we had the perfect combination of storytelling.
Step 4: Thanking Your Sponsors
The main ingredient to a successful sponsorship program is to remember to always thank your donors. As a special thank you to our sponsors, we develop customized packets to thank them for their support and demonstrate how their benefits were met. The packets are printed in-house, to minimize the cost, and our assigned fundraisers hand deliver the packets to each sponsor. The packets are designed to tell the story about the event and showcase that we fulfilled sponsorship benefits as promised.
Sponsorships are a great way for organizations to show their commitment to our future leaders and gain exposure for their products and services.
Linnie S. Carter, Ph.D., APR, is vice president of college advancement at HACC, Central Pennsylvania's Community College, and executive director of the HACC Foundation.
Natasha Walton, MBA, is director of grants and corporate relations at HACC, Central Pennsylvania's Community College.