by Lynn Whalen
Lincoln Land Community College
Springfield, IL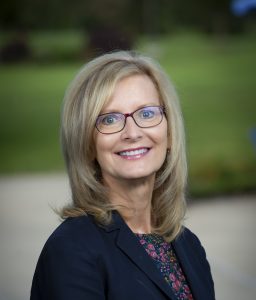 Mesmerizing sunset views of the Smoky Mountains provided the backdrop for the beginning of the District 2 conference, "Rising to the Challenge," in Asheville, North Carolina.
District 2 Director Virginia Moreland welcomed a good crowd of attendees, and keynote Dr. Pam Cox Otto, in her inimitable style, told us that "marketing is not about the media, it's about the message." She urged us to boil our message down to emotion; positive emotions broaden our thinking. Find out about your audience: What are our shared beliefs? What are their fears, hopes and intellectual goals? In marketing, tap into our collective dream that "This is my community and I want everyone to have the best life for themselves and their family."
Unfortunately, I was unable to stay for such outstanding presentations on the "#EndCCstigma" campaign, community colleges and the First Amendment, and maximizing ideation and creativity. My thanks to District 2 executive council member and NCMPR Director-at-Large Christine Payton, who provided this summary of another presentation that gave her pause:
Vallie Collins was on the airplane that landed in the Hudson River a decade ago. The trauma changed her life forever. She presented five takeaways that are great reminders as we chase the newest technology or the latest breaking news.
Be nice. In the moments the plane was going down, she wondered if she was nice to the ticket agent, to the person at the gate. Would she be remembered as someone who was nice to others?
Be empathetic. Put yourself in others' shoes.
Be physically fit. Getting out of the plane in the water required strength and endurance. "You never know when you'll have to save yourself."
Broaden your perspective. See the big picture.
Don't sweat the small stuff. Will you ask yourself at the end of your life, "Should I have checked my email one more time?" Or, will you say, "I should have spent more time with my family." Find that work/life balance. Don't let life pass you by.
Setting Sail for Friday Harbor, San Juan Island, WA
A plane, car and ferry ride later, I arrived at picturesque Friday Harbor, Washington, located on San Juan Island. District 7 Director James Walters and member Casey White-Zollman serenaded us with "Come Sail Away" to begin the conference, and Randy Martin, director of the Skagit Valley College San Juan Center, described the transfer programs and Road Scholar programs offered there.
Have you ever thought of a PR crisis as a fire? The team from College of Western Idaho used that analogy to explain how the fire triangle of oxygen, heat and fuel is comparable to the ingredients that can fuel a PR flame: trustees, faculty/staff and the public/media. When a poll of no confidence against the president was broadcast through the media, making a conscious decision to not fuel the story – and to push out positive stories to counteract several burning embers – kept the negative flames from burning out of control.
Speaking of fire, the team at Langara College had a real one to deal with, when an individual ignited several blazes in the campus science building. Keeping a cool head while communicating often and consistently with the campus community was key during this campus emergency.
Many colleges celebrate their 50th anniversary, but Langara, located on West 49th Ave. in Vancouver, British Columbia, decided to celebrate their 49th instead with the largest celebration in college history – engaging alumni, current and prospective students, and the community at large in an all-day outdoor event.
Interestingly and significantly, Langara has also adopted the name of snəẃeyeɬ leləḿ (house of teachings), a name given the college by the Musqueam First Nation, on whose unceded traditional territory the college is located.
Marketing Reaches New Heights in Albuquerque 
District 4 Director Natalie Daggett welcomed us to the Land of Enchantment and the hot air balloon capital of the world. Coordinators of the 48th annual International Balloon Fiesta shared with us how getting this annual event off the ground involves year-round planning and is no small task.
How do we deal with the negative perceptions some hold of community colleges? Perhaps we need to face the stigma head on, and rather than changing what our colleges do, change how we communicate about it. The Colorado Community College System worked to elevate the community college brand by communicating with legislators and other influencers about the great ROI we offer. Their strategy? Narrow the audience, connect with them emotionally, then communicate with them a set of promises committed to by each of the state's community college presidents.
We also heard from student ambassadors who are content creators for social media at the University of Arkansas Community College – Batesville. They produce engaging videos and Facebook polls and spread fun on #tiktokFriday. The results: a much larger social media footprint at the college and increased enrollment overall, while the students learn valuable skills applicable to future careers.
Ever heard of a Makerspace? We toured the innovation hub FUSE Makerspace which is affiliated with, but branded separately from, Central New Mexico Community College. The space offers high-tech equipment, software and workshops to members at a low cost, allowing budding entrepreneurs to create prototype products and launch businesses.
Following a festive evening featuring a Flamenco performance, it was time to head home to central Illinois. The upcoming District 1 conference will be covered by NCMPR Vice President Juan Gutierrez, while Executive Director Debra Halsey and I represent NCMPR at the American Association of Community College's (AACC) fall meeting.
Congrats to All!
A big congratulations to all district directors, conference chairs and committees and Medallion coordinators on an amazing job and outstanding conferences. Kudos also to the highly deserving winners of District Communicator of the Year, Pacesetter and Rising Star awards, along with all Medallion winners. I hope to see you all in Orlando for the national conference March 22-24, 2020!
Lynn Whalen is executive director, public relations and marketing at Lincoln Land Community College in Springfield, Illinois, and president of NCMPR.