by Heather McDorman
St. Charles Community College
Cottleville, MO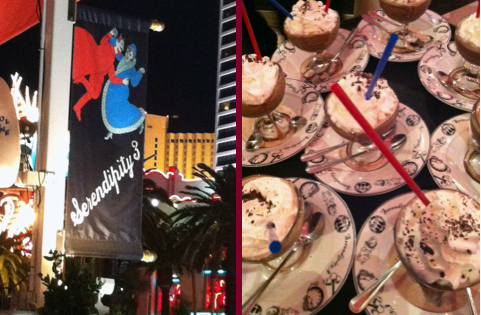 … Will it stay in Vegas? This visit may be the exception to the popular universal agreement between visitors that What Happens in Vegas, Stays in Vegas.
What I'm taking from my first stop of the "Tour of Districts" is too valuable to leave here in Sin City. Amber Chiang, District 6 Director, and her conference organizers (shout out to Cheryl, Dave and Juan), put together a high-caliber experience — including awesome presenters (shout out #2 to Chris @ Southwestern and Cheryl @ MiraCosta), a great venue, and crazy good dining.
A popular topic at the conference was blogging and its value to our constituents and to our websites. Great info was shared about best practices on how to set them up, how to drive visitors to them, and how, with some planning, you can up your website's value on search engines. Great stuff.
On a lighter note, and coming from a girl with just a bit of a sweet tooth, our outing to Serendipity 3 at Caesar's Palace was pretty dang tasty (on the right, witness the perfect frozen hot chocolate … can you say YUM?).
You know, it's a cute name for a cool restaurant, but I can tell you it was not serendipity that connected me to NCMPR. It was at the insistence of my boss that I became a member many years ago and it is the value of conferences like this one and the people like the members I met this week that convince me that my NCMPR experiences are both happy and beneficial but they did not happen by chance.
You can bet that what "happened" in Vegas will not stay here – they will be shared with my colleagues at St. Charles Community College. And, I don't think I'm alone in that. Thanks D6 … it was a great start to a wonderful adventure!
Next up … my home … District 5. Kansas City, here I come!