by Michele Kersten-Hart
Oakland Community College
Bloomfield Hills, WI
"Celebrating Creativity" was the theme for the District 1 conference, held at the Warwick Hotel in Philadelphia, Pennsylvania, and it perfectly captured the essence of the conference. District 1 Director Laurie Farrell and her planning team were so welcoming and worked tirelessly to put together an amazing program. I had to twist Laurie's arm, but she finally gave in and allowed me to help put together the goody bags distributed at registration. We were off to a good start!
The conference officially kicked off with a presentation by three representatives from Skai Blue Media – Rakia Reynolds, Christina Ciabattoni and Lisa Rediker. They shared some fresh new ideas for telling the community college story, including some great suggestions for using social media, and accurately pointed out that a press release often doesn't get the job done these days.
NCMPR conferences provide wonderful opportunities to pick and choose presentations on timely topics of particular interest to you. That was certainly the case at the District 1 conference, where I zeroed in on a few breakout sessions on video. My college, Oakland Community College, is focusing more and more on video to tell our story, and I walked away with a load of ideas on how to approach video production, including how to decide when it's best to produce video in-house and when it's better to use an external videographer.
For the District 1 Medallion Awards, NCMPR member Patrick Stone from Community College of Rhode Island and former NCMPR member Jonathan Fonseca, who is now with Bryant University, served as emcees and put on quite a show. For halftime intermission, retired NCMPR member Sally Cameron (a former NCMPR president and now a great friend of mine) was featured in an entertaining and humorous video about what an honor it is to win a Medallion and how much she's enjoying retirement, but with a funny twist. She had everyone in the room laughing up a storm. Nice job guys!
I was then off to the other side of the country, to Bend, Oregon, for the District 7 conference, "Inspiration at Elevation." I really loved the fact that the conference was held on the campus of Central Oregon Community College, home to District 7 Director Aimee Metcalf. Aimee arranged a campus tour, which left us all in awe of the beautiful grounds and breathtaking mountains.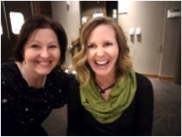 Opening the conference was Erik Frank, the marketing manager at Deschutes Brewery. Erik shared the history of the brewery, which knows a thing or two about branding. Every employee they hire is required to take brand training courses and, ultimately, pass the Deschutes brand test.
The closing keynote speaker was Aimee's supervisor, Ron Paradis, director of college relations at Central Oregon Community College.  His topic: Crisis on Campus, How to Communicate When the Worst Happens. Ron shared information about an incident involving a public safety officer that took place at COCC not too long ago. I really appreciated his candor and willingness to share the minute details, including what worked in their communications, what didn't work and what they would do differently.
Again, kudos to Aimee and her conference planning team. They did an excellent job putting together extremely insightful sessions and an overall great conference experience.
And the view from my hotel room – well, words can't fully describe it. So instead, I'll share this picture.
Michele Kersten-Hart is the NCMPR president and the manager of multimedia and web services at Oakland Community College in Michigan.