by Linnie S. Carter, Ph.D., APR and M. Pamilla Saylor
HACC, Central Pennsylvania's Community College
Harrisburg, PA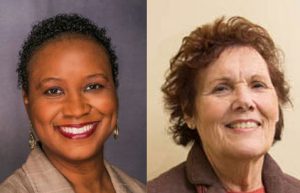 The hustle and bustle of college life was abruptly disrupted at HACC, Central Pennsylvania's Community College, in December 2015 when an unidentified caller said a bomb would detonate at the institution's largest campus at noon – in less than 75 minutes.
Because the caller didn't specify where the bomb was located, students, employees and visitors were told to immediately evacuate the entire campus via the college's emergency alert system that simultaneously posted the message online and on the college's social media sites. The college's public address system also broadcast the message.
With no knowledge of why the campus was being evacuated, thousands of nervous people hurried to their vehicles – and found themselves caught in a massive gridlock with only two roads in and out of the campus. The gridlock was compounded by tractor-trailer traffic headed to and from industries along one of the main roads.
After the evacuation was complete, public safety and security personnel conducted a building-by-building search for the device. None was found. The campus reopened nearly six hours later for evening classes with only an hour's notice.
HACC's Integrated Marketing Communications (IMC) department team sent the first alert within minutes of the report before grabbing laptops, crisis communication checklists and personal items to join the evacuation. Working remotely, the IMC team continued to communicate messages from HACC President John J. "Ski" Sygielski, Ed.D., with frequent updates during the situation and in the days that followed. The IMC team also responded quickly to comments posted on social media.
The next day, Dr. Ski called members of the campus leadership and IMC teams to review what went well – and what didn't.
The lessons learned included:
• Establish a command center at a nearby off-campus location for crisis command and communication teams rather than sending them varying distances to work remotely. The two teams subsequently held a successful mock evacuation drill at the designated command center.
• Establish protocol with nearby law enforcement agencies to control traffic lights and shut down traffic entering the area to use all lanes for exiting the campus.
• Establish an agreement with local trucking companies to suspend truck movement for 30 minutes during an evacuation. A traffic management plan was developed in cooperation with multiple agencies and local trucking companies and is now part of the campus evacuation plan.
• Establish a pick-up point for public transportation and private vehicles arriving to pick up evacuees.
• Establish a decision point for re-opening a campus to give students and employees adequate time to arrive.
Additionally, the IMC team acted to:
• Create "canned" scenarios for various emergencies to send immediate alerts. The IMC team worked with public safety and security to develop the messages.
• Keep a change of clothing and toiletries handy.
• Continue to keep laptop and crisis communication materials nearby for emergency use.
• Update the crisis communication plan as new information becomes available.
• Conduct a deep review annually of the entire crisis communication plan.
HACC took this situation and lessons learned seriously, making our learning environment safer for our stakeholders.
Linnie S. Carter, Ph.D., APR is vice president of college advancement at HACC, Central Pennsylvania's Community College, and executive director of the HACC Foundation.
M. Pamilla Saylor is the integrated marketing communications coordinator for media relations and special projects at HACC, Central Pennsylvania's Community College.